Details

Category: Who Plays What
Last Updated on Tuesday, 16 July 2013 17:27
Published on Thursday, 13 September 2007 17:08
Adam Jones is a Grammy Award-winning musician, guitarist and visual artist, best known for his work with the band Tool. Jones was rated the 75th Greatest Guitarist of all time by Rolling Stone Magazine and placed 9th in Guitar World's Top 100 Greatest Heavy Metal Guitarists. He's also responsible for most of Tool's music videos.
Let's look at what gear and equipment has been seen in Tool's Adam Jones Guitar Rig.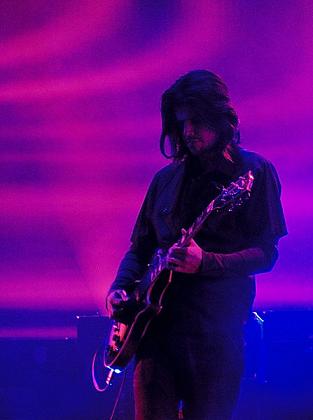 Click the gear images for more info and specs at Musician's Friend
Guitars
- Gibson Les Paul Silverburst Custom Guitars (this is Adam's main guitar)

- SH-4 JB model or a Seymour Duncan Trembucker pickups in his Gibson

- Gibson Les Paul Custom natural finish
- Gibson SG (used for some recording)
- Guild acoustic guitar (can't find exact model)


Amps and Cabinets
Notes: Adam Jones uses multiple amplifiers at one time. We'll list some of the supposed amps he's used live and in the studio here.
- 1976 Marshall Super Bass amp
- Diezel VH4 "blueface" amp (he has 2 Diezels in his 2010 rig)
- Mesa/Boogie Dual Rectifier amp
- Sunn Beta Lead (for some recording)
- Bogner Uberschall

- Rivera Knucklehead Reverb amp

- Peavey amp
- Mesa/Boogie 4x12 cabinet and Mesa 2x15 bass cabinet
- Marshall 4x12 cabinet

Effects
The following gear was seen in his 2010 guitar rig:
- Heil Talk Box w/ Heil mic through small Roland combo amp

- MXR DynaComp for the talkbox

- MXR Micro Amp pedal

- Dunlop CryBaby BB-535 (aka 535Q) Wah

- Peterson Strobostomp Tuner
- Boss BF-2 Flanger pedal

- Boss DD-3 Digital Delay

- DOD fx40b EQ pedal
- Boss PSM-5 Power Supply pedals
- Access Virus B Advanced Simulated Analog Synthesizer
- Moog Taurus pedals

- Virus Indigo synthesizer
- Roland VK-8M

- Korg Rack tuner
- Optical Volume pedal
- Dunlop slide
The following gear has also been seen in Adam's rig over the years:
- Ibanez Flanger

- Ibanez Digital Delay

- Line 6 delay

- Gig-FX Chopper Effects Pedal

- Ernie Ball Standard Volume Pedal

- Foxx Tone Machine Reissue
- Boss SYB-5 bass synthesizer

- Boss GE-7 Equalizer
Strings
- Ernie Ball skinny top/heavy bottom strings (10-52 gauge)