Details

Category: Who Plays What
Last Updated on Wednesday, 06 March 2013 20:13
Published on Tuesday, 28 August 2007 15:23
Carlos Santana is a Grammy Award-winning Mexican-born American Latin rock musician and guitarist. What type of guitar gear would a legend such as he play? Let's take a look at what gear and equipment has been seen in Carlos Santana's Guitar Rig.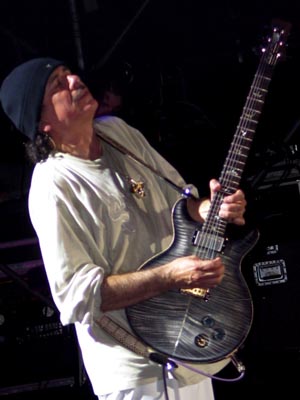 Click the gear images for more info and specs at Musician's Friend
Guitars

Back in the 70's Santana played:
- Gibson L-6S guitar
- Fender Stratocaster
- red Gibson SG Special with P-90 pickups (played it at Woodstock)
- white Gibson SG Special
- Yamaha SG-175B
- Gibson Les Paul (on his "Supernatural" album)
- Yamaha SG2000
More currently Santana plays:
- Santana Model Paul Reed Smith guitars

- Paul Reed Smith SE Santana model (this is Santana's beautiful and affordable signature model guitar):

- Alvarez Yairi CY127CE Classical Guitar
- 1963 Fender Stratocaster (white)
- Fernandes Strat (painted by Michael Rios)
- Yamaha SG2000
- early 50's Gibson Les Paul (previously owned by Michael Bloomfield)
- 1968 Gibson Les Paul Custom
- PRS SE One Abraxas

Amplifiers and Cabinets
- Mesa Boogie Mark 1 combo amplifier snake skin (his version was a "hun-Rev-Altec") Mark V pic:
- custom built Dumble boutique amplifier with Tone Tubby Alnico hemp coned speakers
- Marshall amplifiers (for distorted rhythm, including Marshall 1959 superlead stack)

- Fender Twins for clean rhythm

- Boogie cabinet with Altec 417-8A speakers
- Marshall 4x12 cabinet with Celestion G12M "Greenback" speakers

- Fender Cyber-Twin Amp is mostly used at Santana's home
- Brown cabinet
- Bluetone amps
Effects and stuff
- Mu-Tron volume wah wah pedal
- Dunlop 535Q wah (this is what Carlos Santana has more recently been using)

- T-Rex Replica delay pedal

- customized Jim Dunlop amp switcher
- Ibanez Tube Screamer

- Ibanez Modulation Delay
- Heil Talk Box

- Shure KSM-32 microphones are used to pick up the sound, going to the PA

- Belden 1192A cable
- Variety of Pete Cornish gear including P-2, Mini Line Driver, Acoustic D.I., SS-3, and more


Strings and picks

- GHS Carlos Santana Big Core Guitar Strings Custom Light
- Triangle Guitar Picks