Details

Category: Who Plays What
Last Updated on Monday, 06 January 2014 19:44
Published on Thursday, 23 August 2007 13:37
Jack White is a musician, guitarist, singer, songwriter and music producer. White is best known as the guitarist and lead vocalist of the rock duo The White Stripes. If you like Jack White and the White Strips and want to know what Jack White's Guitar Gear rig and Equipment look like, then this is the article for you. Let's look at what gear and equipment has been seen in Jack's guitar rig.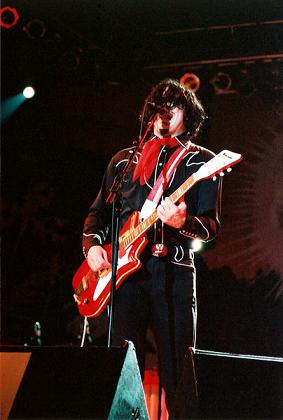 Click the gear images for more info and specs at Musician's Friend
Guitars
- Fender Telecaster (blue with Bigsby)
- 2 1964 JB Hutto Montgomery Airlines guitars
- Harmony Rocket guitar
- 1970s-era Crestwood Astral II guitar
- 1950s-era Kay Hollowbody guitar
- Gretsch White Penguin guitar

- Gretsch Triple Jet guitar (below is a double jet):

- Gretsch Anniversary Jr. w/ Bigsby with three Filtertron pickups

- Custom Gretsch Rancher Acoustic Guitar Western Maple Satin
- Black Gibson F-4 mandolin (below is an F-5)

- Gibson Hummingbird Acoustic

- 1968 Telecaster with Bigsby

Amplifiers and Cabinets
- 1970's Fender Twin Reverb amp

- Two 100-Watt Sears Silvertone 6x10 combos


Effects
Notes: His pedals have been professionally painted
- Digitech Whammy IV

- MXR Micro-Amp

- Electro-Harmonix Big Muff Pi Distortion/Sustainer American

- Electro-Harmonix Polyphonic Octave Generator (POG)

- Boss CS-3 comprssion/Sustainer

- Boss TU2 tuner

- Dunlop Rotovibe
- Voodoo Lab Tremolo pedal

- Z.Vex Woolly Mammoth pedal (used one for the quantum of solace theme song, and also live)

- Either an Electro-Harmonix Holy Grail Nano or a Bassballs pedal (both look the same painted...)

- Demeter tremolo
- EHX Bassballs
Strings
- GHS Nickel Rockers Guitar Strings