Geddy Lee from the band Rush, is arguably one of the best known progressive rock gods.  ÜberProAudio knows that you have been asking yourself all this time "What does Geddy Lee's music equipment look like" - and if you haven't been asking that, you're going to find out anyway. Read below to find out what gear and equipment has been seen in Geddy Lee's bass rig over the yeas.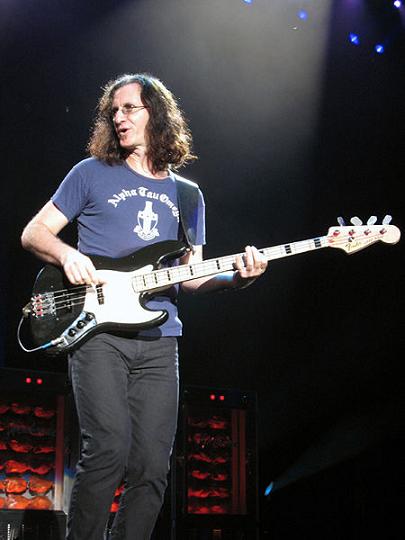 Click the gear images for more info and specs at Guitar Center and Amazon

Bass Guitars
- In the early 1970's Geddy used a Fender Precision Bass

- Rickenbacker 4001 and 4005-12 bass guitars
- Fender Jazz Bass (his main bass is a 72 he got for $200). Fender makes a Geddy model bass also.

- Fender American Vintage '62 Jazz Bass (according to Fender website)

- Steinberger bass (in 1984)

- Wal basses (used from 1985 to 1992)
- Hagstrom bass (way back)
- 1969 Fender Precision bass (traded the Hagstrom for it)
- Fender Jaco Pastorius fretless replica bass (for Malignant Narcissism on Snakes and Arrows)

Strings
- Rotosound Funkmaster round-wound strings (started using Rotosounds in 1972)
- Labella flat wound strings (used for a few years)
Amplifiers and Cabinets

-  Orange AD200 bass head with an OBC410 4x10" bass cabinet - Both Orange colored (2010)
- Sunn 2000-s head
- Ampeg SVT head and V-4B cabs

- Ashly preamps and BGW power amps (were run in stereo with his 4001 bass)
- Gallien-Krueger amps (1991-1992)

- Trace Elliot amps
- Fender Bassman 100T (according to Fender site)

- Traynor Amps

Beginning in 2002, Lee dispensed with traditional bass amplifiers in favor of DI units (also known as direct boxes), which allow the bass guitar to be connected directly to the audio engineer's main mixer. At the same time, Lee began using in-ear monitors.

DI's
- Tech 21 SansAmp RBI (live and recording)

- Avalon U5 preamp/DI (recording)
Keyboards and Synthesizers
- Oberheim (Eight-voice, OB-1, OB-X, OB-Xa)
- PPG (Wave 2.2 and 2.3)
- Roland (Jupiter 8, D-50, XV-5080)
- Moog (Minimoog, Taurus bass pedals, Moog Little Phatty)
- Yamaha DX7
- Roland XV-5080  (2002 and 2004)
- Yamaha KX76
- Korg MPK-130
- Roland PK-5