Ed Sheeran is an English singer, songwriter, record producer, and actor. Ed has countless hit songs and many of us guitar fans will recognize him for his cool guitar looping skills, where he uses a looper pedal to create incredible live grooves.
Let's look at some of the gear and equipment that has been seen in Ed Sheeran's Guitar Rig.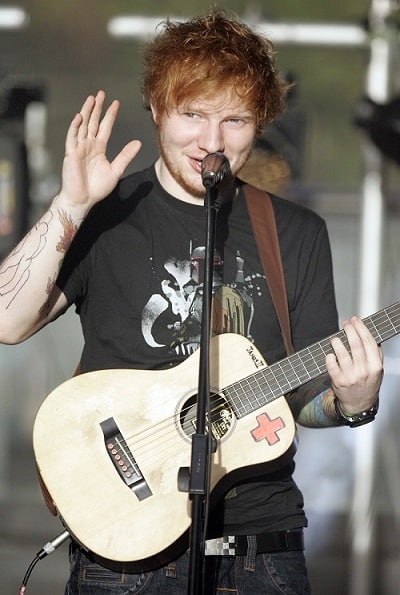 Click the gear images for more info and specs at Guitar Center and Amazon

Strings, Picks, Accessories

- Elixir Nanoweb 0.012–0.053 80/20 bronze strings


- Dunlop Tortex custom printed picks, various colors (typically has graphic on one side and his name on other side)
- Dunlop Trigger Capo


- Sennheiser 2000 series in ear monitors
Guitars

- Sheeran by Lowden acoustic guitars, variety of Lowden models (https://sheeranguitars.com/)

- Martin LX1E guitars and LX1E Ed Sheeran Signature Edition Acoustic-Electric Guitar
- Martin Ed Sheeran X and ÷ (divide) Signature Edition Acoustic Guitars


- Fender Eric Clapton "Crash 1" and 'Green T' Stratocaster Electric Guitar Replicas [regular Clapton signature model pictured below]


- Paul Reed Smith Hollowbody II Electric Guitar [lower priced SE model pictured below]
- Martin Backpacker Guitar
- Martin Custom 00-28VS Guitars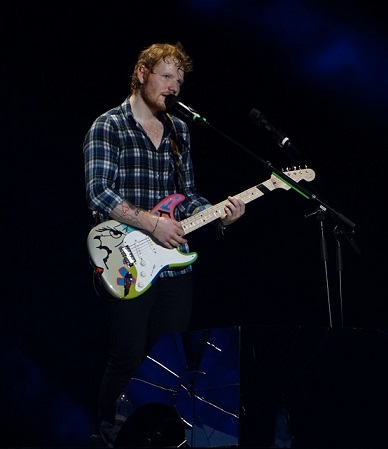 Amplifiers

- Acoustic goes through the sound system

- Vox AC30 or AC15 amp (seen once on stage while he was playing Fender strat)
- Audio Kitchen Little Chopper valve amplifier (used on Divide album)

- Palmer speaker simulator (used on Divide album)




Effects

- Chewie II Monsta Looper custom looper pedal, replaced the Chewie Monsta I (has internal Boss RC-20 Loop Station and integration with Mobius looping plugin)
- Chewie Monsta custom built Midi Foot Controller which controls a Roland FC-300 Midi Foot Controller off-stage
- Boss RC-20XL Loop Station pedal


- Boss TU-3 Tuner pedal (his is a modified pedal that has a tone generator added in)
- Radial SW8 Auto-Switcher


Check out this incredible video where you get a whole walk through of the behind the stage gear that was used for the Ed Sheeran Divide tour, including a walkthrough of the Chewie II pedal!!! This is seriously the best video walkthrough we've seen of his rig.

Recording Gear
- Telefunken U47 Large-diaphragm Tube Condenser Microphone (used for vocals on Divide album)
- Neve 1073 preamp (used for vocals on Divide album)
- Tube-Tech CL 1B Tube Optical Compressor (used for vocals on Divide album) [Pro Tools software version pictured below]