Misha Mansoor plays guitar in the progressive metal band Periphery.

Let's take a look at some of the gear and equipment that has been seen in Misha's guitar rig.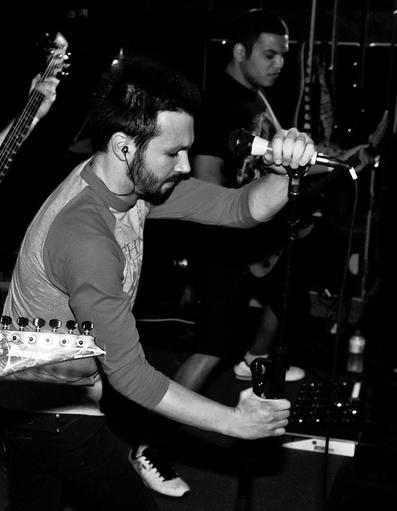 Click the gear images for more info and specs at Guitar Center and Amazon

Note: Misha's rig tends to be changed/updated often! He often posts tons of cool gear info on his Facebook.
Guitars

- Bareknuckle Pickups Aftermath and Black Hawk Sets
- Bernie Rico Jr guitar (Dimarzio Crunch Lab and Liquid Fire pickups)
- Bernie Rico Jr. Jekyll 7 string (Listed it for sale May 2013)
- Various Mayones guitars including Regius and Setius Pro 7
- Mayones guitar (Dimarzio Crunch Lab and Liquid Fire pickups)
- Mayones guitar (Bareknuckle pickups)
- Mayones guitar (Dimarzio EVO pickups)
- Mayones Regius MM TT 4EVER (Bareknuckle Aftermath pickups)
- Ibanez RG3120 (with Crunchlab/Liquifire pickups. Listed it for sale May 2013)
- RAN Crusher 8 guitar (Bareknuckle Aftermath 8 Set)
- Composite Acoustics GX guitar
- Black Machine 7 string (Bare Knuckle Cold Sweat pickups)
- Ibanez RGA420Z
- Ibanez RGA7 custom

- Decibel Guitars Javelin dB1
- Jackson Adrian Smith Strat

- Ernie Ball BFR Petrucci

- Strandberg Guitarworks #23
- Carvin HH2 Holdsworth (blueburst)
- Jackson Custom Shop Dinky 7
- Jackson Custom Shop 6 (blue, Bare Knuckle Juggernaut pickups)
- Jackson B8 (flame top wood, Bare Knuckle Juggernaut pickups)
- Dell'Isola Instruments Custom 6
- Daemoness Guitars Cimmerian 7 (lagoon burst with awesome shattering bulb inlays)




Amps

- Mackie HD1531 PA Speakers

- Atomic Powered Wedges (past)
- Mackie HD1221 wedges

- Zilla 2x12 Fatboy cab
- Blackstar HT-5R

- EVH 5150 III amp head (white)
- Egnater Rebel 20 head
- Engl Invader 100 head (2009)
- Orange PPC 4x12 cab with Celestion V30 speakers (2009)






Effects and More

- Fractal Audio AxeFx II (goes direct to board)
- Fractal AxeFx Ultra
- Line 6 G90 relay wireless rack unit

- Darkglass B7K Pedal
- Pro Tone Misha Mansoor Overdrive pedal
- Mission Misha Mansoor wah
- Microtubes B3K CMOS Bass Overdrive pedal
- ACS T1 Live In-Ears or Shure in-ears


May 2013 he posted a picture of pedals he was trying from Dunlop:
- MXR Stereo Chorus
- MXR Carbon Copy
- MXR Custom Comp

- Way Huge Ringworm
- MXR/CAE Boost/Line Driver

- MXR 6 band EQ

- MXR/CAE Buffer MC406
- MXR DC Brick
- variety of wahs: Cantrell wah, Classic wah, CAE wah, and 535Q wah


- T-Rex "The Twister" Chorus/Flanger pedal (Listed it for sale May 2013)




In 2009 he was using:
- Voodoo Lab Ground Control midi controller
- Maxon OD-808
- Keeley compressor

- TC Electronic stereo chorus/flanger

- TC Electronic G Major (for delays and reverb)
- ISP Decimator noise gate pedal
- Boss NS-2 noise gate
- Boss tuner
- VHT valvulator




Strings
- D'Addario EXL 117 strings 11-56 gauge (for 6-string guitar)
- D'Addrio EXL110 Nickel Wound, Regular Light, 10-46 gauge (D'Addario website shows he uses the 6 string versions of these, but our guess is that it's likely the 7-string versions)

- D'Addario EXL140-8 strings Nickel Wound, Light Top/Heavy Bottom, 10-74 gauge