Steve Morse is a guitar player who founded the band Dixie Dregs and plays guitar in the rock band Deep Purple. Morse also played with the band Kansas.

Let's take a look at some of the gear and equipment that has been seen in Steve's guitar rig.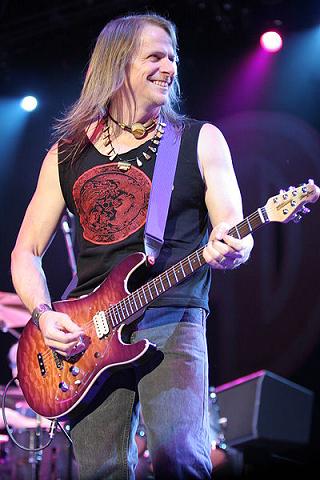 Click the gear images for more info and specs at Guitar Center and Amazon

Guitars

- Ernie Ball Music Man Steve Morse guitars

- Ernie Ball Music Man Steve Morse SM-Y2D guitars



- custom "frankentele" guitar (Fender Telecaster body, Stratocaster neck, Gibson Tune-o-matic bridge, Gibson frets)


Pickups
- Dimarzio Steve Morse pickups (DP200, DP205)



Amps and Cabinets

- ENGL E-656 Steve Morse signature amplifier



- ENGL E670 Special Edition amp heads
- ENGL PRO Slanted E412 VS cabinets

- Peavey 5150 amps
- Marshall Jubilee
- Peavey VTM120
- Ampeg V4




Effects

- custom Skrydstrup switching system
- Ernie Ball VP Jr Volume pedals (Steve uses 3-4 of these on his pedalboard. In videos it is clear it is the VP Jr, but not sure if active or passive model)
- Boss OC-3 Super Octave pedal

- TC Electronic FlashBack TonePrint delay (x2. Using these more recently as Memory Man replacement)
- TC Electronic PolyTune and PolyTune mini pedal

- TC Electronic Spark Booster pedal

- TC Electronic Hall of Fame Reverb pedal
- TC Electronic Nova Delay

- Electro-Harmonix Deluxe Memory Man (x2)

- Digitech Whammy pedal (it is in his rack)

- Boss TU-12 tuner (used before the polytune)

- BF1 Buffer
- ENGL Z-9 Footswitch
- Lexicon PCM41 Delay rack units (seen in 2009 rig pics)
- Eventide GTR4000 (seen in 2009 rig pics)

Note: The TC Electronic site has some TonePrints by Steve Morse also
TC Electronic also did a gear walkthrough video



Strings, Picks, and Accessories

- Ernie Ball electric guitar strings (he stated in an interview gauges: 10,13,16,26,32,42 and 46 for drop D)
- Ernie Ball RPS10 strings (as listed on Ernie Ball website)


- Dimarzio 2" Nylon ClipLock straps (he uses the purple)



- Ernie Ball medium-heavy pick, custom printed with his name
Note: Steve did a video for Ernie Ball of him testing the Cobalt string (gauge 10). There is a chance he is using this now, but there's no info out there that shows he moved from the RPS10, at the time of this writing.