Chris Traynor is a guitar player who has played with Orange 9mm, Helmet, Bush, Rival Schools and Gavin Rossdale.

Let's take a look at some of the guitar gear and equipment that has been seen in Chris' guitar rig.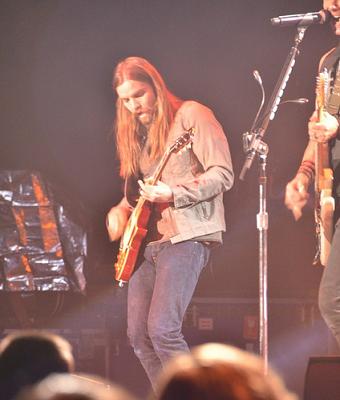 Click the gear images for more info and specs at Guitar Center and Amazon

Guitars
- 1973 Gibson Les Paul Custom (cherry burst. TonePros hardware, Gotoh tuners, Lollar bridge pickup)

- Gibson Les Paul Standard (refinished. DiMarzio 36th Anniversary humbucker pickups)
- Teye guitar (appears to be the La India "E" model)
- Cobra Cavehound (2 P-90, semi-hollow, sunburst)
- Gibson Explorer (white)

- Fender Kurt Cobain Jaguar

- Gibson 1966 ES-355




Amps and Cabinets
- Atomic Reactor 50/50 power amplifiers
- Atomic custom shop guitar cabinets
- Mesa Boogie Dual Rectifier amp head (first revision)



- Divided by 13 FTR 37 amp
- Marshall EL34 100/100
- Marshall JMP-1 (modded by Voodoo Amplification)
- Rivera Silent Sister isolation boxes (Eminence speakers)
- Marshall Modified JCM800 (only studio use)





Effects
Note: In interviews Chris has said he has a large collection of vintage pedals.
- 2 Fractal Audio Axe-FX II units
- Furman Power Conditioner
- Voodoo Lab Ground Control board
- Boss Chromatic Tuner pedal (TU-2)
- Dunlop Jerry Cantrell Signature Cry Baby wah pedal
- Ernie Ball VP JR Volume pedal
- T-Rex Engineering 9V Fuel Tank Junior

- MXR Phase 90
- MXR Custom Audio Electronics boost/overdrive pedal
- MXR Blue Box pedal
- Ibanez vintage TS808 Tube Screamer





Picks
- Clayton 2.0mm guitar picks