Satchel (aka Russ Parrish) is the guitar player in the glam rock band Steel Panther.

Let's take a look at some of the gear and equipment that has been seen in Satchel's guitar rig.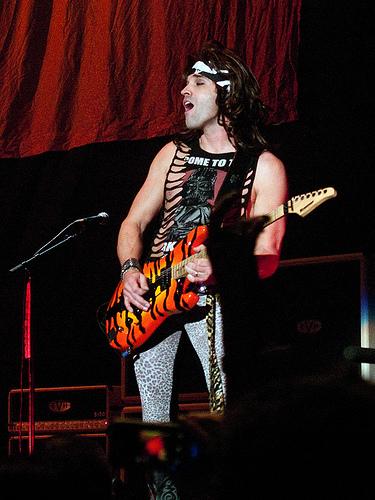 Click the gear images for more info and specs at Guitar Center and Amazon

Guitars
- Kramer Pacer guitars with Floyd Rose whammy, Seymour Duncans (variety of colors)

- Gibson Explorer



- Gibson acoustic guitar (sunburst color, single cutaway) Model?
- EVH D-Tuna

- B.C. Rich Virgin guitar (in "Fat Girl" video)





Amps and Cabinets
- EVH 5150 III white 100-watt heads
- EVH 5150 III White cabs
- Marshall JCM 800 or 900 amps
- Marshall JCM2000 TSL
- Marshal 1960 4x12" cabinets

- Mesa dual/triple rectifier amps (seen in some videos)





Effects and More
- Wireless Line 6 relay unit

- Vox Wah pedal
- Boss Tuner
- MXR Carbon Copy Delay
- Boss Turbo Distortion
- Voodoo Lab Pedal Power






Strings and Picks
- D'Addario 9 to 42 gauge strings
- custom printed blue Dunlop Tortex pick