Mike Mulholland plays guitar in the band Emmure.

Let's take a look at some of the gear and equipment that has been seen in Mike's guitar rig.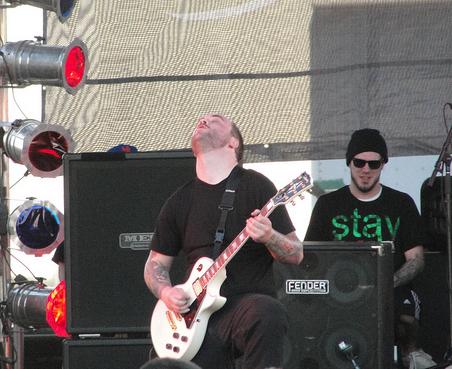 Click the gear images for more info and specs at Guitar Center and Amazon

Guitars
- Ibanez RG3250MZ (single EMG 81)
- Ibanez LACS RG (Silverbust, single EMG 81)
- Fender Jim Root Telecaster (black)
According to Fender website, also:
- Fender Jim Root Stratocaster
- Fender Jim Adkins JA-90 Tele

- Fender Blacktop Tele

- Washburn WI-556 Custom Shop guitar (used with Recon)

- EMG 60 and 81 pickups

- Gibson Les Paul Custom (his is white)






Amps and Cabinets
- Peavey 5150 II (also possibly 6505)
- Mesa Boogie flat front 4x12" cabs

- Omega Enclosures
- Matrix poweramp





Effects
- Fractal Audio Axe-FX2 (using this more recently)
- Voodoo Lab Ground Control (used with the Axe-FX)
- Digitech Whammy pedal (x2)

- Tube Screamer - custom made - like a Maxon OD-9 with JRC4558D
- Boss PS5 Super Shifter
- Ernie Ball Volume pedal VP Jr.
- Boss GE-7 EQ pedal
- DBX 260 Loud-speaker Control

- MXR Carbon Copy
- MXR Phase 90
- Boss Chromatic Tuner
- Voodoo Lab Pedal Switcher

- Voodoo Lab Pedal Power 2+
- Boss NS-2 Noise Supressors
- Boss DD-3 Delay pedal (replaced with the MXR)
- George L and Monster cables
- PedalTrain Pro pedalboard

- Sennheiser Wireless


Mike also has occasionally used:
- Boss RC-20 pedal
- Boss DD-20 Delay
- Boss CH-1 Super Chorus
- Dunlop 535Q Cry Baby Wah
- MXR Wylde Overdrive pedal

- Radial BigShot
- Electro-Harmonix Big Muff
- ISP Decimator G String

Strings
- SIT 13-68 custom gauge strings