Lenny Kravitz is a multi-talented, multi-instrument playing musician.

Let's take a look at some of the gear and equipment that has been seen in Lenny's guitar rig.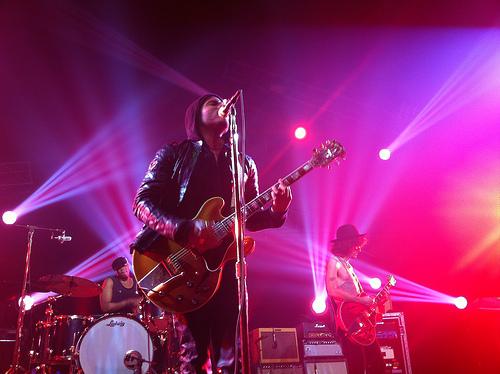 Click the gear images for more info and specs at Guitar Center and Amazon

Guitars
Lenny has been said to have over 300 guitars in his collection!!
- late 50's Gibson Les Paul Standard (used much in the studio)

- Gibson Les Paul Custom (3 pickup)

- Fender Telecaster

- Fender Stratocaster
- Gibson Les Paul (Iced Tea finish, made for him in 2010)
- Gibson Les Paul Goldtop

- vintage Gibson L5 guitar

- Gibson SG (vintage)

- Gibson Flying V Kravitz signature model guitar
- Gibson vintage flame top Les Pauls ('58, '59 and '60s models)
- Fender Jazzmaster (his first guitar)

- Gibson Everly Brothers acoustic
- Gibson SJ-200 acoustic (or something very similar)

- Gibson semi-hollow guitars





Amps
- Fender Twin Reverb amplifier head (Lenny called this one of his favorite amps in a Total Guitar interview)

- Fender Tweed Deluxe amp (Lenny's distortion sound)



- Fender Pro Reverb
- Marshall amp heads
- Park head
- Divided By 13 amps (a listed user)
- Celestion speakers (listed on Celestion as a user of Gold and Heritage Series G12-65)

- Acoustic 360 bass amp head (bass in the studio)

Note: Lenny uses 8 different amps live



Effects
- Bradshaw switching system (guitar tech runs this)
- Furman Power Conditioner
- MXR EVH Flanger pedal
- MXR EVH Phase pedal
- Fulltone Tube Tape Echo
- MXR Dyna Comp pedal
- Fulltone Fulldrive II pedal
- Analogman Mini Chorus
- black pedal (appears to be a Boss RV-5)
- Boss Octave pedal

- Sweet Sound Mojo Vibe pedal
- purple pedal (appears to be Guyatone WR3 Wah Rocker)
- Boss Metal Zone pedal





Strings
- D'Addario EXL140 Nickel Wound, Light Top/Heavy Bottom, 10-52 strings
- D'Addario EXP17 Coated Phosphor, Medium, 13-56 acoustic guitar strings


- D'Addario EXL115 Nickel Wound, Medium/Blues-Jazz Rock, 11-49 strings






Lenny's personal studio gear
Here are some of the goodies in the Gregory Town Sound studio (on island of Eleuthera)
- restored British made Helios console
- EMI designed REDD 37 desk
- multiple analog tape machines (Studer and 3M)
- Pro Tools HD3
- Variety of outbioard gear from API, DBXm Teletronix, EMI, Urei, Farichild, Helios, RCA, EMT and more
- Variety of mics from AKG, Electro-Voice, Neumann, RCA, Sennheiser, Shure, Scheops, Sony and Telefunken
- Vocal path: Neumann U47, Helios mic pre, Sphere graphic EQ, Fairchild 660 and LA2A