Andy Williams is a guitar player in the band Every Time I Die.

Let's take a look at some of the gear and equipment that has been seen in Andy's guitar rig.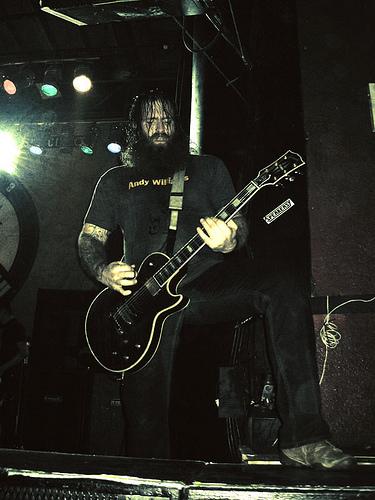 Click the images for more info and specs at Guitar Center and Amazon

Guitars
- '76 Gibson Les Paul Custom (black)

- Gibson Les Paul Custom (natural finish, painted gold. Lipstick pu in neck)
- First Act Custom Solidbody Delia guitar (black, 24 frets)
- First Act Pink Tiger Striped Sheena
- First Act Paul Frank Lola
- First Act DC-6
- Fender strat
- a Fender Telecaster Deluxe looking guitar (black. Can anyone verify?)

- Gibson SG

- Gibson Les Paul Studio (black)





Amps and Cabs
- Bison amps AW-77 custom amplifier head
- Marshall JCM800 amps
- '70s Marshall JMP amp head
- Blackstar Artisan 100 amplifier
- Orange guitar Cabinets
- Orange Thunderverb head







Effects and More
- Boss NS-2 Noise Supressor pedal
- Boss delay pedal?
- Boss PS-5 Super Shifter pedal
- Dunlop Cry Baby QZ1 Q Zone pedal
- Ibanez TS9 Tube Screamer Overdrive pedal

- Death By Audio Octave Clang
- Electro-Harmonix POG2
- SKB PS-45 pedal board

- Voodoo Lab Pedal Power 2+
- Dimarzio ClipLock straps