Adam Young is an American musician, multi-instrumentalist, producer and the founder of the synthpop project Owl City. Adam has also fronted a large variety of other musical projects such as Sky Sailing. Adam also has his own studio called Sky Harbor Studios.

Let's take a look at some of the gear and equipment that has been seen in Adam's live and studio guitar rigs.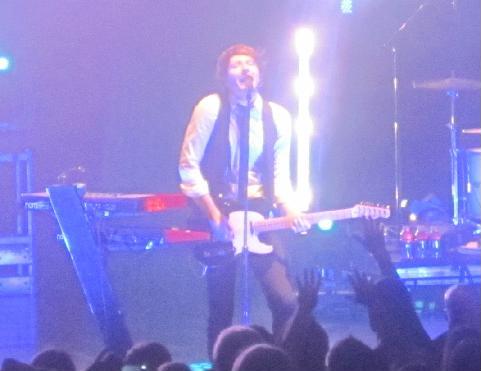 Click the gear images for more info and specs at Guitar Center and Amazon

Guitars
- Fender American Precision Bass

- Fender American Telecaster (black, maple neck)

- Fender American Stratocaster
- Fender '69 American Telecaster Thinline (sunburst)
- Fender American Telecaster Deluxe

- Fender Custom Shop Telecaster La Cabronita (blue)
- Fender American Telecaster Vintage
- Gibson Les Paul Standard guitar
- Gibson ES-335 Dot Plaintop semi-hollow guitar

- Taylor 314CE Acoustic guitar

- Taylor 816CE Acoustic guitar
- Fender '72 Telecaster Deluxe (Olympic white. Appears to be the road worn model) (black classic pic below)






Amps
- Orange AD30 Twin Channel amplfiier

- Marshall JVM410H amplifier

- Marshall G80R amp





Effects and More
- Boss RE-20 Space Echo
- Boss DD-3 delay pedal
- Line 6 FBV SHORTBOARD MkII

- Line 6 POD XT Pro (HD pic below)
- Mac laptop



Synths
- Access Virus TI2

- Korg MicroKorg

- Korg Radias
- Moog Voyager

- Nord Electro 3

- Nord Wave
- Roland Juno-G
- Roland Fantom G8
- Roland Gaia

- Roland VP-770





Thanks to Matt Kennedy for additional research.