Pat Smear is a guitarist who has played in many great bands, perhaps best known as a guitar player in the Foo Fighters. Pat also played guitar with Nirvana and The Germs.

Let's take a look at some of the gear and equipment that has been seen in Pat's guitar rig.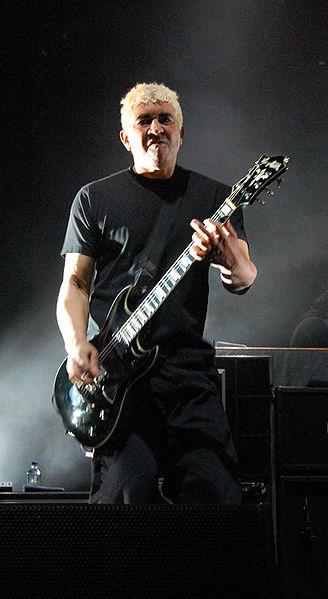 Click the gear images for more info and specs at Guitar Center and Amazon

Guitars
- large collection of Hagstrom guitars
A quote from the Hagstrom website: "Pat has an abundance Hagstroms at home including Swedes, Super Swedes, Hagstrom III, and more, and he is recognized as having one of the largest vintage collection of Hagstrom guitars in the USA"
- double neck Gibson SG (white, seen in 2010 studio pic)

- Taylor acoustic guitar
- Hagstrom Viking Deluxe and an HL-550 (on Foo Fighters acoustic tour)
- double neck guitar/bass, appears to be Fender ("I Should Have Known" video Live on Letterman)
- Duesenberg 440 guitar
- Gibson Silverburst Explorer (likely a baritone)




Amps and Cabinets
- Peavey 6505+ amplifier head (black, 2011)
- Peavey 2x12 6505 cabinet (black, 2011)
- Mesa amps and 4x12" cabs
- Marshall 4x12 cab (slant)

- Roland JC-120 Jazz Chorus amplifier (some studio stuff, Wasting Light)
- Hagstrom 6x10 combo (eyewitness report)






Effects
- MG Music Lexotone pedal (fuzz/octave)
- Electro-Harmonix Neo Clone nano pedal
- Boss TU-3 Chromatic Tuner pedal