Kurt Cobain - Nivrana's frontman and guitar player went down in history as an alternative rock god. Based on our research and eyewitness reports, let's take a look at Cobain's guitar gear he used live.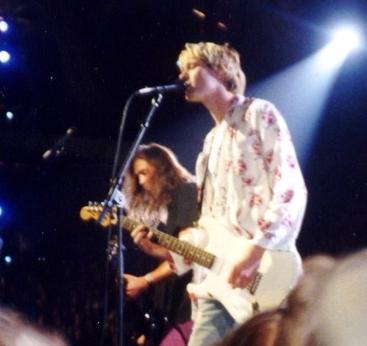 Click the gear images for more info and specs at Guitar Center and Amazon

Guitars
News: In 2011 Fender began producing a Kurt Cobain signature Jaguar, modeled after his '65 guitar

Cobain's most used guitars:
1965 Fender Jaguar electric guitar
Left handed model
Dimarzio pickup in neck position and Dimarzio super distortion in bridge position
Later switched to Seymour Duncan JB
Schaller Bridge
1969 Fender Mustang electric guitar
Blue with racing stripes
Lefthanded
Fender makes a Kurt Cobain signature version:


1990's Fender Stratocaster Standard electric guitar
Various Japanese models
Usually used for smashing at end of Nirvana's show
Variety of Fender Telecasters
1993 Fender Telecaster (Gibson pickup in neck. Sunburst)
Other Guitars
Mark IV-style Mosrite Gospel guitar  (bought by Kurt in 1990)
Epiphone et-270
Univox Hi-Flier
Martin D-18E
Strings and Picks
Kurt was known to use Dean Markley strings, gauge .10-.52.
He used Dunlop Tortex Standard picks, orange color.
Acoustics
- Stella 12-string (Polly recording)
- Epiphone Texan (unplugged recordings)
- Martin D-18E (electric/acoustic version of D-18)
Guitar cabinets
- Marshall 1960A Slant Cabinet - 4x12
- Marshall 1960AC Vintage Cabinet - 4x12


Two to eight Marshall cabs were used depending on the size of the live venue. The cabinets were loaded with either Celestion 12" G12M Greenback Speakers

 OR
Celestion 12" Vintage 30 Speakers

Amps
- Crest 4801 power amps
- Crown Power Base 2 Power Amplifier
- Mesa/Boogie Studio .22 Preamp
- Mesa Boogie Mark III head
- Fender Bassman
- Vox AC30
- Marshall Micro stack
- Fender Twin Reverb (his favorite studio amp)

Pedals
- Boss DS-1 and DS-2 Distortions
- Electro-Harmonix Poly Chorus (submitted by anonymous user)
- Electro-Harmonix Small Clone Analog Chorus
- Electro-Harmonix Big Muff
- Electro-Harmonix Echo Flanger
- MXR Phase 100 pedal
- Tech 21 SansAmp amp simulator
- Pro Co Rat