Peter Frampton is an English musician, singer, producer, and multi-instrumentalist. He has been in the bands Humble Pie and The Herd, and been doing a solo act for years.

Let's take a look at some of the cool gear and equipment that has been seen in Peter's guitar rig.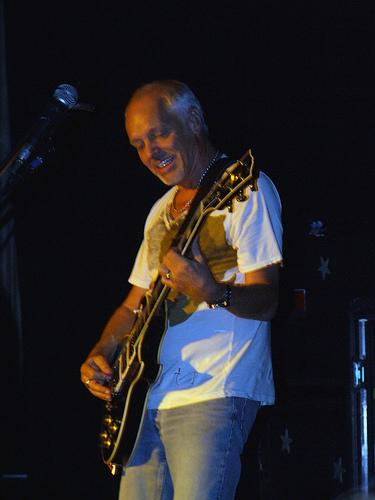 Click the gear images for more info and specs at Guitar Center and Amazon

Note: Much of this gear list is his more recent gear (2010).
Guitars
- Gibson Peter Frampton Les Paul custom (black, 3 pickups)

- Fender Hank Marvin signature Stratocaster
- Gibson Les Paul Goldtop

- 2005 1960 Gibson Les Paul Standard Reissue (his has Tom Murphy finish)

- Gibson hollowbody (ES-335 perhaps)
- 90's Fender Telecaster (made in Fender custom shop)
- 1963 Fender Jaguar

- Gitane DG-255 gypsy jazz guitar
- Martin D-42 Peter Frampton signature dreadnought acoustic (standard D-42 pic below)
- Tacoma C1C Chief acoustic
- Electra MPC X330 guitar (les paul looking)
- Gibson ES-335





Amps and Cabinets
- 70's 100-watt Marshall modded by Jose Arredondo (has master volume)


- Marshall JMP modified by Suhr (for talk box)
- 60's Fender blackface Bassman amplifier head (for clean tones)
- Egnater M4 Rack Preamp with 4 modules
- Mesa Recto 2:100 power amp
- Marshall 4x12 cabinets

- Leslie rotating speaker cab
- 1962 Marshall JTM45 (for solos in studio)
- 1964 Vox AC30 Top Boost and Vox modified AC15
- Vox limited edition Brian May AC30
- Ampeg ET-1 Echo Twin (used much in the past)
- 1958 Ampeg Jet with 12" speaker




Effects
- Framptone Talk Box (the company founded by Frampton)

- Framptone The Amp Switcher Footswitch

- Framptone The 3-Banger Footswitch
- Heil Talk Box
- Axess Electronics FX1 Midi foot controller
- Alesis Q20 Quadraverb
- Eventide Eclipse multi effects units (x2)

- TC Electronic C400XL compressor
- TC Electronic D-Two delay

- TC Electronic 1210 Spatial Expander/Chorus unit
- Digitech Whammy pedal

- Gig-FX Mega Wah and Pro Chop pedals
- Dunlop Cry Baby rackmount wah
- Boss CE-1 Chorus (with Paul Rivera mod)
- Klon Centaur
- Fulltone OCD
- Seymour Duncan Pickup Booster
- Mutron III envelope filter
- Electro-Harmonix POG
- Electro Harmonix Small Stone phase
- Fulltone Supa-Trem tremolo pedal
- Furman Power Conditioners
- Voodoo Lab Pedal Power