Scott Middleton is the guitar player in the band Cancer Bats.

Let's take a look at some of the various guitar gear and equipment that has been seen in Scott's guitar rig.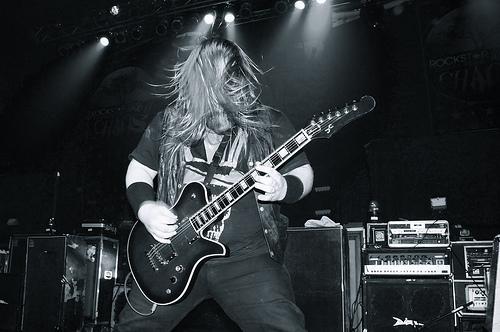 Click the gear images for more info and specs at Guitar Center and Amazon

Guitars
- First Act Custom Sheena loaded with Dual EMG 81's (Main Guitar)

- First Act Custom Sheena with a Seymour Duncan Blackout in the bridge

- First Act Nine String (used for solo overdubs)
- Gibson 1987 Les Paul Custom Light loaded with EMGs
- Mouradian Flapjack
- ESP Viper
- Fender American Standard Telecaster

- Vox 55 series goldtop double cutaway guitar
- First Act flying V
- Nik Huber Krauster



Amps
- Diezel 180W Herbert (Main Amp. 6L6 Svetlana Tubes)

- 2 Diezel frontloaded 4×12 cabs (1 with celestion vintage 30 speakers other with Custom Diezel Eminence Speakers)
- Morris XS3 Custom Head
- Marshall Kerry King JCM 800
- Marshall Silver Jubilee
- Marshall JMP76
- Fender Pro Junior (used for creating feedback and some overdubs)







Effect Pedals
- Ibanez TS-7 Tube Screamer Pedal (ts-9 pic below)

- Zvex Mastotron

- Electro Harmonix Double Muff

- Keeley Katana Clean Boost

- XOX Rice and Beans Double Boost
- Electro Harmonix Muff Fuzz
- Prescription Experience Octave/Fuzz Pedal
- Foxx Tone Machine
- Catalinbread Teaser Stallion
- Pro Co Rat
- Radial Texas Bones Overdrive

- XOX Inga
- Rocktron Cyborg Digital Delay Pedal

- Electro Harmonix POG2
- Morley Bad Horsie (Main Wah)
- Morley Mark Tremonti Power Wah


- Ernie Ball Dime Crybaby Custom

- Dunlop Original Crybaby (Used as a Fixed Wah)
- Digitech Whammy

- Rocktron Hush Pedal (in the serial fx loop)

- Blackstar amps HT-DistX Pedal

- Boss TU-2 tuning pedal
- Boss ns-2 noise suppressor (to kill guitar feedback)
- Korg DTR 2000 rack tuner
- DMC Ground Control Pro
- Furman Power Conditioner
- ISP Decimator G-String (as shown in Aug 2010 on Music Radar)

- T-Rex Fuel Tank Classic

- Providence PEC-2 routing system pedalboard
- Providence Stampede 00 pedal
- Providence Sonic Drive pedal
- Providence Heat Blaster pedal
- Rockron Xpression rack unit

Strings, Picks, and More
- GHS – 11-52 Progressives guitar strings
- Dunlop Tortex yellow – 0.73mm
- Evidence / George L's guitar cables
- Scott Dixon Inc Guitar Trolley Cases
Research by user "ilovewomen"