Jamie Cook is a guitar player in the British indie rock band Arctic Monkeys.

Let's take a look at some of the gear and equipment that has been seen in Cook's guitar rig over the years.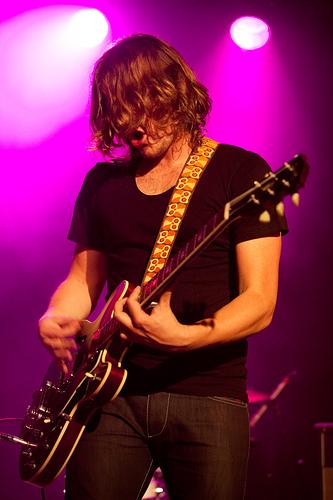 Click the gear images for more info and specs at Guitar Center and Amazon

Guitars

- Fender Telecaster 62 Reissue - Red w/white pickguard

- Gibson ES-335 Brown w/black pickguard and one Red with Bigsby

- Fender Starcaster
- Gibson SG guitar






Amps

- Hiwatt Custom 50watt 2x12 Combo (the 7 watt pic below)

- HiWatt 4x12 Cabinet
- Badcat Hot Cat 30R amplifier




Effects

Here are some of the pedals that have been spotted on Jamie's board over the years:

- MXR M-104 Distortion+
- T.Rex Dr. Swamp Twin Distortion
- Boss Tuner pedal
- Electro Harmonix Big Muff and Little Big Muff Distortion pedals
- Electro Harmonix HOG Guitar Synthesizer

- Electro Harmonix Deluxe Memory Man Delay

- Electro Harmonix Pulsar Tremolo

- Boss LS-2 Line Selector
- Boss RE-20 Space Echo
- Fulltone OCD
- ZVEX Super Duper

- Dunlop DC Power Brick
- Ernie Ball VP Jr
- Death By Audio Fuzz Gun
- Electro Harmonix Hum debugger




Thanks to Robert B. for researching.