Zac Brown is the vocalist and guitar player in the Zac Brown Band. The Zac Brown Band is an american country musc band based in Atlanta, Georgia.

Let's take a look at some of the gear and equipment that has been seen in Zac's guitar rig.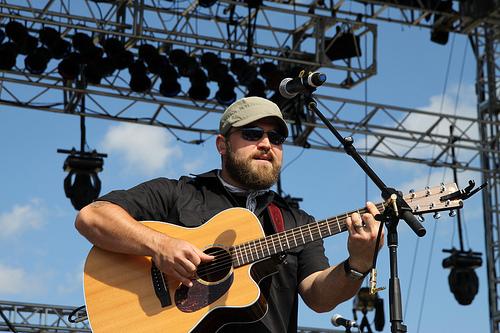 Click the gear images for more info and specs at Guitar Center and Amazon

Guitars
- Taylor 614CE acoustic guitar

- Taylor 612CE acoustic guitar
- Taylor T3/B electric guitar

- Taylor NS72ce (rosewood back/sides, cedar top) acoustic
- 2008 Collings Winfield Mahogany Adirondack Sunburst
- Gibson '59 reissue Les Paul guitar (sunburst, flame maple)

- Gibson semi-hollow guitar
- Collings I-35 guitar
- Dunlavey custom built Chief Strat-style guitar
- Gibson Semi-hollow electric guitar (natural finish)
- Voyage-Air Guitar
- Martin acoustic guitar?
- Smith Brazilian Rosewood D-28 Deluxe made by Caleb Smith



Amplifiers
- Fender 65 Super Reverb amps
- Taylor K4 and Avalon U5 DI preamps

Other
- Sennheiser EW 372 G2 wireless
- BOSS TU-2 tuner
- BOSS GE-7 EQ
- Voodoo Lab Pedal Power 2 Plus
- LR Baggs Para Acoustic DI

- Keeley compressor pedal (2-knob)
- Port City Sahana boost pedals
- Strymon El Capistan



Strings and Picks
- D'Addario EXP17 Coated Phosphor, Medium, 13-56 gauge acoustic strings
- D'Addario EXL110 Nickel Wound, Regular Light, 10-46 gauge electric strings
- Savarez high-tension (Nylon)
- Ernie Ball or Curt Mangan electric guitar strings
- Dunlop Rhino 1.14 mm picks