Gary Rossington is a founding member and guitar player in Southern rock band Lynyrd Skynyrd.

Let's take a look at some of the gear and equipment that has been seen in Gary's guitar rig.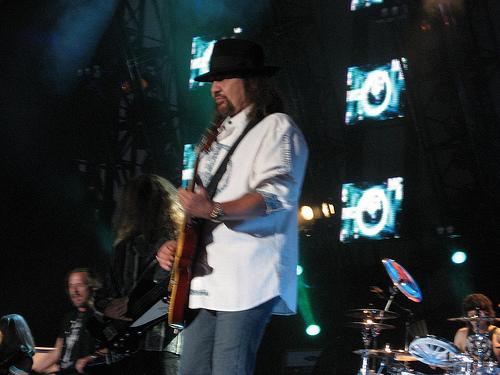 Click the gear images for more info and specs at Guitar Center and Amazon

Guitars
- Gibson Gary Rossington custom shop Les Paul Honeyburst (chambered)
- Gibson Gary Rossington custom shop black Les Paul
- Gibson Gary Rossington signature Custom Shop SG (plays on Free Bird)
- Gibson '59 Standard Les Paul (now doesn't take this guitar on the road)

- Washburn guitars (used in The Rossington Band)
- There's a pic out there of Gary playing a black Squier strat, MIJ from the 80's. May have been a charity auction.
- Seymour Duncan SH-4 and SH-5 pickups

Amps and Cabinets
- Peavey Penta Gary Rossington amplifer Special Edition heads (x2. Switched to these for 2009 tour.)

- Peavey 4x12 cabinets with standard Peavey Black Widow speakers (x4)

- Peavey Mace amplifer heads (used them starting in 1971)






Effects
- Line 6 MM4 Modulation Modeler pedal (used for tremolo and phase)

- Wireless system
Much of this gear listing is of Gary's recent gear. If anyone wants to list older gear, feel free to leave a comment with info.