James Smith is one of the guitar players in the band Underoath.

Let's take a look at some of the gear and equipment that has been seen in James' guitar rig.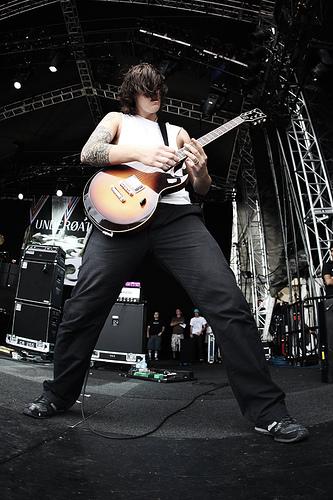 Click the gear images for more info and specs at Guitar Center and Amazon

Guitars
- Gibson Les Paul (Tobacco burst, neck pickup taken out, missing a tone knob)
- Gibson faded SG
- First Act guitars (seen with red and black ones. Neck pickup missing)- custom First Act Lola and baritone Delia LS with a light vintage sunbust/brown-burst finish
- Fender Telecaster (butterscotch blonde w/ black pickguard)









Amps
- Marshall JMP amplifier head
- Orange 4x12 cabinet
- Marshall 8x10 cabinet
- Orange AD140 twin channel amp head
- THD Hot Plate (purple one)







Effects and More
- Boss TU-2 pedal tuner
- Ernie Ball VP JR.
- Ibanez TS808
- MXR M-102 Dyna Compressor
- Boss NS-2
- Monster cables

- SKB Pedalboard