James Hetfield does more than just provide the band Metallica with growling vocals - he is also the bands rythym guitarist. Let's checkout his gear.
Let's see what guitar gear and equipment Metallica's James Hetfield's has been seen using in his guitar rig.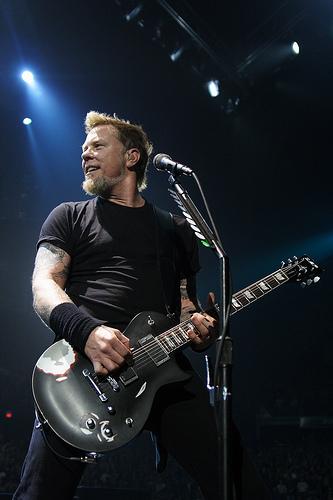 Click the gear images for more info & specs at Guitar Center and Amazon

Guitars
James has uses a large amount of guitars. The following are some of them that have been seen:
- ESP LTD James Hetfield Snakebyte Electric Guitar
ESP LTD Iron Cross James Hetfield Signature Electric Guitar
ESP LTD Vulture Signature Series James Hetfield Electric Guitar
- ESP James Hetfield Truckster Electric Guitar Distressed Satin Black
- Gibson 1973 Les Paul Custom "Iron Cross" (ESP made a James Hetfield Iron Cross Signature)
- ESP James Hetfield LTD Truckster Electric Guitar Aged Primer Gray

- ESP Explorers, including a black and chrome version.
- He also has an ESP LTD 7-string guitar (coined "The Goblin") and an ESP LTD F-300M.
- ESP JH-1 Flying V
- Ken Lawrence Explorer guitars
- 1976 Gibson Explorer called "Rusty"

- 1973 Gibson Les Paul called "Uncle Milty"
- 1959 Gibson Les Paul

James designed the graphics for his original ESP Viper baritone guitar. The graphics were hand painted by Kirk Taylor of Custom Design Studios in Novato, California. Kirk Taylor also paints James' hotrods and motorcycles.
- Line 6 Variax Acoustic (Used for live performances of "The Unforgiven")
- custom Gibson Firebird guitar

- Jackson King V guitar (white, used in the 80's during Master of Puppets tour)

- BC Rich Wrath (seen using in 90's)
- EMG 81/EMG 60 pickups
- EMG James Hetfield JH pickup set
Amps and Cabinets
- Mesa Boogie Stiletto Deuces
His amp rack has a Mesa/Boogie Triaxis and a Strategy 400. He also plays two Diezel VH4 heads loaded with EL34s. a Wizard, a Marshall DSL, a Roland JC-120, and a Sears Magnatone amongst other amps.
- Marshall DSL
- Mesa Boogie Triaxis
- Diezel VH4 Heads

- Mesa Boogie Triple Rectifier
- Roland JC-120 (James uses the head version more recently of this amp)
- KRANK Revolution head
- Krank Krankenstein

- Wizard Modern Classic Amp heads and Wizard 4x12 cabs
- Marshall 4x12 cabinet

- Vox AC30
- Sears Magnatone
- Mesa Boogie Mark IIC+ (Master of Puppets)
- Mesa Boogie standard cabs
Effects and More
- Furman PL Pro Power Conditioner
- TC Electronic G-Major
- Line 6 DM4 Distortion
- MXR Phase 100
- Electro-Harmonix Bass Micro Synth
- Digitech Whammy WH1 pedal

- DMC GCX Audio Switcher
- Voodoo Lab Ground Control Pro
- Mesa Boogie High Gain AmpSwitcher
- Peterson Strobe 520 Tuner

- Boss CH1 Chorus pedal
- Levy M8P3GP Straps
- Behringer Multigate Pro

- Shure UR-4D Wireless Receiver

- DBX 1074 Quad Gate

- Boss NS2
- Klon Centaur
- ATI Nanoamp SUM 100
- Voodoo Labs Pedal Power 2 Plus
- Lovetone Brown Source
- Shure Super 55 microphone
- Line 6 POD X3 Pro (to emulate the JC120 sound)
Strings and Picks
- Ernie Ball Power Slinky strings gauge .011-.048  (as shown on Ernie Ball site) and .013-.058 on the baritone guitar.
- Dunlop Ultex Black Fang guitar picks (by James and Dunlop)
- Dunlop .88mm (Green) Picks
- Custom Yellow/Black Picks from pick factory