Phil Demmel is the lead guitarist for the groove metal band Machine Head. He was also a founding member of the band Vio-Lence as well as guitarist/vocalist in Torque.

Let's take a look at some of the gear and equipment that has been seen in Phil's guitar rig.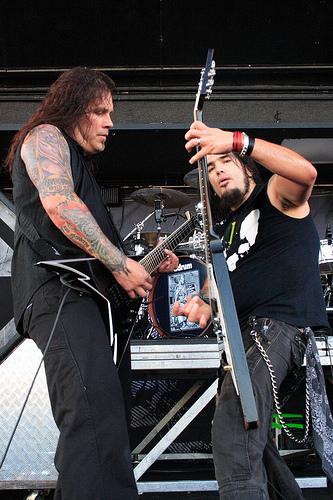 Click the gear images for more info and specs at Guitar Center and Amazon

Guitars
- Jackson Phil Demmel Demmelition V (EMG 81/60)

- Jackson Phil Demmel PDX 2 Electric Guitar



- Jackson USA Select Series KV2 (white with black pinstripes. EMG 81/85)

- Jackson USA select Series RR1T (white with black bevels. EMG 81/85)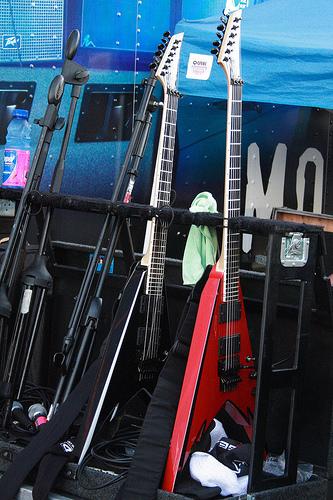 - Jackson Warrior guitar (seen in parts of the Imperium video)



Amps and Cabinets
- Peavey 6505+ Amps
- Peavey 5150 Amps (has two - one backup)
- Marshall 1960BV 4x12 Straight cabinets
- Fractal Axe-FX (began using in summer 2011)
- Furman AR-15 Series II Power Conditioner
- Shure U4S Wireless Unit. Also has said Sennheiser wireless.
- Boss CE-5 Chorus Ensemble
- Boss DD-7 Delay pedal
- Boss TU-2 tuner
- Boss NS-2
- Ibanez TS-9 Reissue

- Boss BF-3 Flanger
- MXR EVH Phase 90
- Dunlop Buddy Guy Wah (actually has the Zakk Wylde wah guts in it). Also uses Dunlop rack wah
- DOD Envelope Filter pedal
- Peavey VYPYR Modeling Amp

- Ebtech by Morley Hum Eliminator

- MXR Zakk Wylde Overdrive pedal

- Boss CS-3
- Voodoo Lab Ground Control
- Electro-Harmonix Electric Mistress
- Voodoo Lab Super Fuzz
- Rocktron Prophesy II (was using for some of his clean tones)

 - MXR Carbon Copy (according to his page on dunlop)
- MXR Analog Chorus (according to his page on dunlop)
Strings and More
- Dunlop strings
- Dunlop Ultex sharp picks

- GHS electric guitar strings gauges .010, .013, .018w, .032, .042, .058
- Mogami cables