Most guitar players growing up wanted to have a guitar as sick as one of Metallica's Kirk Hammett. Let's take a peek at what Kirk has been seen using for a guitar gear rig and equipment. Kirk Hammett has played a lot of different gear over the years with Metallica, so we will try to give a nice survey of what he uses.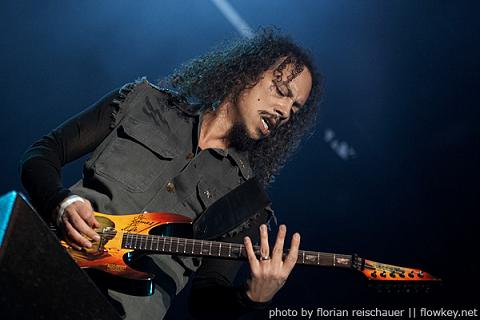 Click the gear images for more info & specs at Guitar Center and Amazon

Guitars
- Kirk often plays his original 1987 ESP KH-2 live.

- ESP KH-2 Ouija:
- Hammett also has an ESP KH-3 hardtail that he calls the "Invisible Kid", which Kirk did the artwork for himself.
- He has an ESP M-2 "Frankenstein" that is inlated with "The Monster is Loose". The eyes are LEDs.
- Hammett has ESP V custom guitars
- ESP Kirk Hammett Signature KH-DC Electric Guitar
- Gibson Custom Kirk Hammett Flying V Aged Electric Guitar and other Flying V guitars

- ESP LTD KH-602 Kirk Hammett Signature Guitar

Some of the other guitars Kirk owns are:
- 1959 Fender Tele with blonde finish

- Fender stratocasters including an early 60's in lake placid blue and a 1963 Fender Strat in seafoam green

- Gibson Les Pauls including black Les Paul Custom, a 1959 Les Paul, and 1987 Les Paul

- Jackson Randy Rhoads guitars
- Parker Fly
- Gibson ES-335

- Martin D-28
- ESP Custom Shop "Michael Schenker Colored" V (seen in 2008 rig)
- Fernandes stratocaster (black)
Strings, picks and more
- Custom Kirk Hammett Dunlop Jazz III picks

- Custom Levy's straps including M7GG3
- Peterson Strobe 420 Tuner
- Dunlop .88 (Green) Picks
- Custom Yellow/Black Picks
- Audio Technica microphones: AT4050 for guitars, AT4054 for vocals

- EMG Pickups

- Kirk uses Ernie Ball string with gauge .011-.048.
Amps and Cabinets
- Randall Kirk Hammett signature series heads (2 of them live) and 4x12" cabinets

- Randall Kirk Hammett Signature Series KH15

- Randall Kirk Hammett Signature Series RM100KHLTD
- Marshall DSL 2000

- Marshall 1960b cabinet


- Mesa Boogie Tremoverb combo
- Mesa Boogie Dual and Triple Rectifier amps

- Mesa Boogie Stilleto
- Mesa Boogie Triaxis amp
- Marshall Super Lead Plexi
- Vox AC30
- Marshall JCM 800 2203
- Bogner Uberschall

- Peavey 5150
- Hiwatt custom 50
- Marshall Mode Four
- Dumble SSS (Steel String Singer)
- Mesa Boogie 4x12-Celestion Vintage 30s

Effects
Kirk also has been known to use Line 6 pedals, Dunlop CryBaby wah, and a Digitech Whammy. Let's look at what he's used:
- Randall Kirk Hammett Signature Series KH1, KH2, KH3 preamp modules

- Dunlop KH95 Kirk Hammett Crybaby Wah
- Ibanez TS9 Tube Screamer

- Vox Wah pedal
- Ernie Ball Volume pedal - Connects to midi solutions pedal controller and into TC Electronics G-Major

- DBX 1074 Quad Gate

- Line6 DL4 Delay
- Line6 MM4 Modulation

- Line6 FM4 Filter

- Line6 DM4 Distortion
- Line 6 duoverb
- Digitech WH1 Whammy

- Digitech XP-300 Space Station
- Furman PL Pro
- TC Electronic G-Major Effects
- Dunlop 1SR Rackwah
- Voodoo Labs GCX Audio Switcher
- Line 6 Pod XT
- Lovetone meatball
- Lovetone Wobulator
- Lovetone Brown source
- Way Huge Swollen Pickle

- Dunlop Crybaby Wah Pedal
- Shure PSM600 WirelessTransmitter and UR-4D receiver
- MXR Eddie Van Halen Flanger
- Boss NS2
- Palmer Y-Box Guitar Splitter