Joe Don Rooney is the guitar player in the American country music band Rascal Flatts.

Let's take a look at some of the gear and equipment that has been seen in Joe's guitar rig.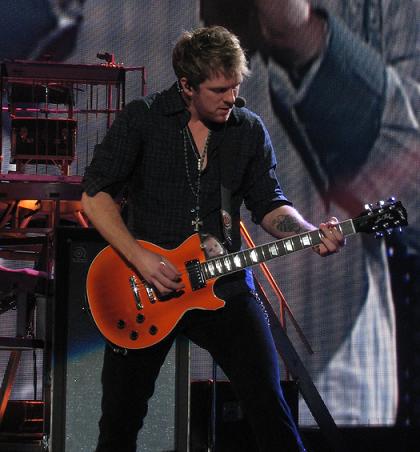 Click the gear images for more info and specs at Guitar Center and Amazon

Guitars
- Gibson custom built goldtop Les Paul (with image of wife's lips painted)

- Gibson 1963 SG Juniors (red and a white one)

- Gibson ES-335 (sunburst)

- James Tyler Telecaster
- Fender 1957 Reissue Stratocaster (his is sunburst)

- Taylor 714ce

- Gibson Les Paul Studio (ebony)






Amps and Cabinets
- Bogner Ectasy 101B amplifiers (x2, one is a backup)
- Marshall mid 70's JMP 50 watt (for clean)
- VHT Power Amps (x2, one spare)
- Bogner 4x12 cabinet (used by the Bogners) G12H30 celestions

- 2x12 (used by the Marshall head. Vintage 30's)
- 1x12 cabs built by Peter Matthers (vintage 30 celestions)

- cabs miced with Shure SM57 mics and Royer R-121 Ribbon mics






Effects and More

Rack:
- TC Electronic FireworX Multi Effects Processor

- TC Electronic Reverb 4000

- TC Electronic D-Two - Multitap rhythm delay

- RJM Amp Gizmo
- Korg Rack tuner
- Palmer PDI-09 Direct Box
- Furman Power Conditioner
- Shure Wireless
- Radial Headbone





Joe's Pedalboard:
- Digital Music Corp Ground Control Pro
- Ernie Ball Volume pedal
- Boss FS-5U pedal

- Lehle 1@3 Amp switcher

- Analog Man Mini-Chorus
- Boss GE-7 EQ pedal
- Boss NS-2 pedal
- Fulltone MDV2 Mini DejaVibe 2 (wah version)
- Boss TU-15 Chromatic Tuner



The Tech pedalboard (controlled by his guitar tech who does much of the switching) has:
- Digital Music Corp Ground Control Pro
- Ernie Ball VP Volume pedal
- Boss TU-2
- Dunlop DC Brick
- Keeley Compressor
- DLS Effects RotoSim rotary speaker simulator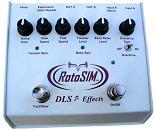 Checkout this great picture from 2007 of Joe's pedalboard. Thanks to Dave at DLS Effects for providing us with the photo!
Click the image to enlarge to fullsize in a shadowbox.