We all know Sting for his work with The Police, and his great voice, but how many people actually realize he plays Bass? Read further to see what bass gear Sting has been seen using at live shows.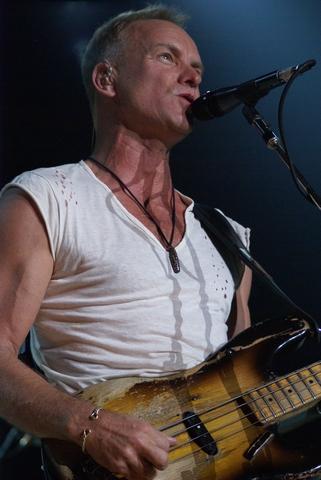 Click the gear images for more info and specs at Guitar Center and Amazon

Basses
Sting mainly uses Fender basses live:
- Fender '57 Fender Precision, sans pickguard and a Fender '55 Fender Precision
Notes: The '57 bass is known to be Sting's favorite bass and he uses the '55 as a backup bass. Both of the basses have Basslines Single Coil Stack pickups and are strung with DR Hi Beam strings gauge .040-.100. Sting used to play with a pick but has been playing his basses with his fingers lately.
Fender Sting Signature Precision Bass:
Strings
 - DR Hi Beam strings gauge .040-.100
Amplifiers and Cabinets
- Ampeg SVT-4Pro amplifier (as stated on the Ampeg site)

- Ampeg 8x10 Bass cabinets
Also has used:
- Carver 2.0 amps (modified by Clair Brothers Audio). 1200 watt low end monoblock and 75- watt per side top-end.
- Clair Brothers ML-18 1x18 cabinets
- two Clair Brothers 12 AM-7 cabinets (12" Electro-Voice speaker and a 2550 JBL horn)
Other Gear
- Shure U1-UA wireless UHF transmitters
- switching/muting system
- Alembic F1-X preamp
- Court Acoustics GE60 i-octave equalizer
- Urei 7110 compressor/limiter
- Electro-Voice XEQ-3 crossover
- Furman power conditioners (to protect all of the gear from power surges)
- Moog Taurus 2