Jake Cinninger is a guitar player in the American progressive rock jam band, Umphrey's McGee.

Let's take a look at some of the gear and equipment that has been seen in Jake's guitar rig.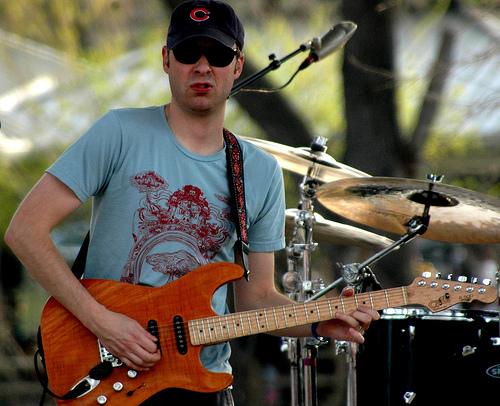 Click the gear images for more info and specs at Guitar Center and Amazon

Guitars
- G&L s-500's electric guitars

- circa '85 Kramer American guitar
- babicz acoustics
- Moog Prototype guitar

Notes: Jake has an interesting custom made tremolo arm (aka the "blade") on his G&L guitar. The arm is a small piece of metal which is conformed to a specific shape. It's used as a palm rest to actuate the vibrato.
- Jake Blade tremolo by Mark Benjamin



Amps and Cabinets
- Fuchs OD-50
- Marshall Vintage modern heads (2266 50 Watt Head)

- Fuchs 2x12 cabinets loaded with Electro-Voice speakers
- 4x12 cabinet (brown)




Effects and More
- Banzi Cold Fusion (Clean boost mode)
- BBE Free Fuzz pedal
- Boss Phaser PH-3 pedal
- Boss Super Pitch Shifter
- Clark Gainster
- Guyatone delay pedal

- Marion Henry Electric Fuzz Bucket
- Moogerfooger Analog Delay
- Morley Bad Horsie wah
- Source Audio Hot Hand Motion Controlled Wah Filters
- Radial Tonebone Classic overdrive pedals

- Pedal-Racks True Bypass Strip pedal switcher
- HBE Bytchn Swytchn A/B/Camp switcher
- Mogami cables (instrument)
- George L cables (pedalboard)
- Monster (speaker) Cables
- Keeley Compressor
- Stigtronics compressor




Strings
- D'Addario .0105-.048 electric guitar strings