Neil Young is one of the most famous musicians of all time. His guitar rig is filled with vintage gear that would make most musician's drool.

Let's take a look at some of the gear and equipment that has been seen in Young's guitar rig.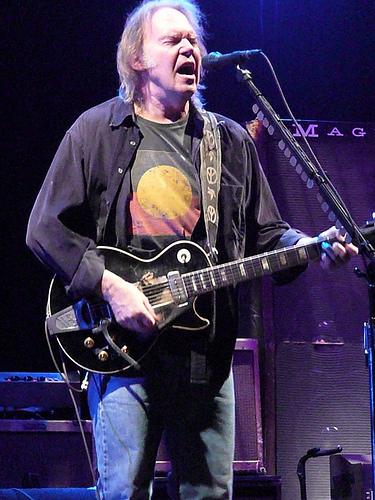 Click the gear images for more info and specs at Guitar Center and Amazon

Neil Young's Guitars
- 1953 Gibson Les Paul Goldtop that is painted black. Bigsby tremolo. P90 in neck. Firebird pickup in bridge. ("Old Black"). The firebird pickup was install in 1973.
- 1961 Gretsch White Falcon

- 1956 Gibson Les Paul Junior

- 1953 Gibson Les Paul Goldtop (with Bigsby)
- Martin D-28 "Hank", early 40's (once Hank Williams')
- Martin 1968 D-45
- Martin D-28 '62
- Taylor 855 12-string
- Gretsch 6120

- Gibson Flying V

- Fender Broadcaster

Neil Young's Amps and Cabinets
- '59 Fender tweed Deluxe amplifier (6L6 tubes)

- Fender Tremolux



- Magnatone 280 amp with stereo vibrato
- Magnatone Speaker Cab
- Fender Twin (tweed, four-6L6 tubes)
- Mesa Boogie Bass 400
- Whizzer boxes - motrized device used to adjust the amp volume and other settings
Neil Young's Effects and other Guitar Gear
*Interesting fact. In a Guitar World interview, Neil Young's guitar tech explained that "Young derives his distortion entirely from the Deluxe's output-tube saturation. He coaxes various gain stages from the amp using a device called the Whizzer, a custom-made switching system he and his late amp tech, Sal Trentino, developed around the time of the Rust Never Sleeps tour in 1978." There's 4 different settings on the Whizzer that dial in different amounts of distortion depending on which setting is selected.
- pedalboard made out of red painted wood. (also controls whizzers)
- Fender Reverb unit
- Mu-Tron octave divider
- MXR Analog Delay
- Boss Flanger (in blue box)
- Echoplex
- Shure SM57 mics (used on the amps)
- Sennheiser 409 mics (used on the amps)
- Alesis Microverb




Neil Young's Strings and Guitar Picks
- D'Angelico 80/20 Brass acoustic guitar strings .012-.054 gauge
- Dean Markley Super V electric strings .010-.046 gauges
- Ernie Ball Slinky strings (in the past)
- Herco nylon Gold Flex 50 picks
Checkout this great Neil Young Guitar Gear Rundown video that Musician's Hall of Fame did - it helps answer some questions like what guitar gear does Neil Young use. In the interview, Neil first talks about the Gibson Les Paul Junior that was one of his earliest guitars - he had it when he was playing lead at 15 years old. The amp he first got was an Ampeg EchoTwin and he then got a Fender Tremolux amp, followed by a Springfield amp. When he formed Crazy Horse there was a guy named Saul who had a lot of old guitar gear for sale in 1967, he took his Gretsch guitar and played through an amp that had a ton of feedback. He bought that amp for $75 and was still playing it at the time of the interview. He mentioned the Buffalo Springfield Gretsch guitar along with an old White Falcon guitar also made by Gretsch. It sounded like Neil said that the amp he was referring to, which he still plays, was a Fender Deluxe amp. Neil then goes on to talk about the technique he uses for playing guitar with the tremolo bar (he calls it a "Wang bar"). The strings that Neil uses varies - it used to be Ernie Ball Super Slinky strings, but then was using GTR Strings also. Neil says he also used D'Angelico medium and sometimes light gauge acoustic guitar strings.