Toshiya is a Japanese musician and the bassist of Dir En Grey.

Let's take a look at some of the gear and equipment that has been seen in Toshiya's bass rig.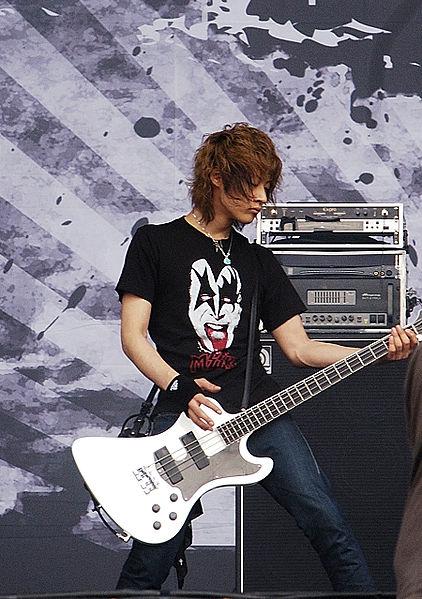 Click the gear images for more info and specs at Guitar Center and Amazon

Thanks to Dir En Grey's management for providing us with 2011 rig updates!
Also see our Dir En Grey Interview for pictures and info.
Basses
- ESP D-TR-290 RU-Drive (signature bass. '00, '01, and '02)
- ESP D-TR Prototype
- ESP Halibut - ash, 5 string
- Seymour Duncan DP-100 RSV
- Lakland 55-94 Classic

- Gibson Flying V bass (white)
- Killer Beelze
- Killer 3epo
- Killer Vulture
- Killer Eve
- Rickenbacker 4003
- Fender Jazz Bass (sunburst)







Amps and Cabinets
- Ampeg SVT-2 Pro Bass Amp

- Ampeg SVT-810E Bass Cabinet
 - Fender Bassman 300 Pro head
- Eden WP-100 Navigator Bass Preamp
- Eden 2x Eden D810RP Bass Cabinets



Pickups
- Seymour Duncan SJB-1n a neck and SJB-1b at bridge on RU-Drive basses




Other
- ESP custom-printed triangular picks
- ESP Dir en grey series guitar strap
- Korg DTR tuner
- Expro Wireless
- Avalon U5
- TECH21 SansAmp Bass Driver DI

- Commune SENTURION Crazy Booster
- EBS UniChorus

- Rocktron MultiValve