Michael Anthony needs no intro. He is perhaps best known as the original bass player in Van Halen. His most recent band Chickenfoot, is extremely rockin. Anthony's 2009 Chickenfoot rig was pretty paired down. Let's check it out.

Let's take a look at some of the gear and equipment that has been seen in Anthony's bass rig.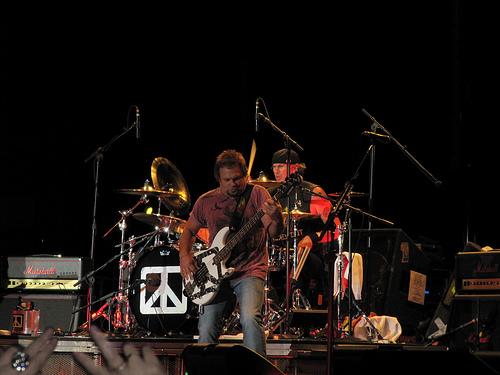 Click the gear images for more info and specs at Guitar Center and Amazon

Chickenfoot Bass Rig:


Basses
- Yamaha BB Series basses. A Michael Anthony signature BB300MA is his main bass. (BB2024 pic below)
- Yamaha Jack Daniels 4-string bass guitar
- Gibson EB1 Violin bass (Anthony has said this is his favorite instrument)



Amps and Cabinets
- Peavey VB-3 300 watt tube amps. A Michael Anthony version is said to be in the works.
- Peavey VB-810 8x10 cab enclosures

Note: Previously used Ampeg amps



Effects
Michael has said he wasn't using effects on the 2009 Chickenfoot tour
- Wireless unit
-  Audiotech Source Selector
- Furman Power Conditioner
Michael was using the following effects on 2012 tour:
- Dunlop DC-Brick
- MXR Stereo Chorus pedal
- MXR Flanger pedal
- MXR Bass Octave Deluxe
- Boss TU-1000 tuner


Strings
- Dunlop Bass Strings various gauges (a picture shows gauges 45, 65, 87, 107. Dunlop site shows 45-105)
- Dunlop Delrin picks