Zach Myers is currently the lead singer and guitarist for the rock band The Fairwell, and also plays lead guitar in the hard rock band Shinedown.

Let's take a look at some of the gear and equipment that has been seen in Zach's guitar rig.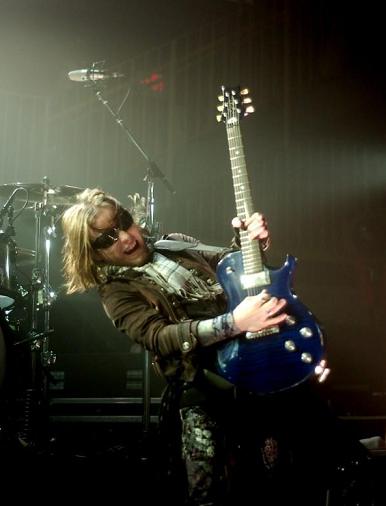 Click the gear images for more info and specs at Guitar Center and Amazon

Guitars
Note:Zach has said in interviews he has over 160 guitars
- Taylor Solidbody Standard (aged cherry)

- variety of PRS guitars
- PRS Mira (black)

- PRS Hollowbody I guitars (sunburst and other colors)

- PRS SE Zach Meyers Modelguitars (Silver Sparkleburst, Royal blue, etc...)
- Taylor acoustics
- Fender '72 Thinline guitar(black)

- ST Blues Guitars
- Parkwood Guitars
- Schecter Synyster Gates Custom guitar w/ Sustainiac
- Gibson '58 Les Paul burst (original)

- '68 Gibson Dove (stolen)
2012 amps:
- Fuchs Mantis 100 and Triple Drive Supreme 100 amps
- Diamond Nitrox and Phantom
- two Diezel Herberts

2010 amps:
- Diamond Spitfire II
- Diezel Herbert

- 1968 Fender Bassman (cleans)
- Engl 2x12 cabinet with Vintage 30 speakers

- Diamond 4x12 cabinet with Vintage 30 speakers
- Diamond 4x12 cab with 100watt celestion speakers
Other amps:
- Engl Fireball 100

- Engl Richie Blackmore Signature

Notes: In 2009 it appears that there are a bunch of Mesa amps on stage behind the band. However, in a picture http://www.flickr.com/photos/39985166@N07/3736574665/ it looks like there is a Diezel and Hiwatt in the rack.
- Mesa Rectifier amplifier heads

- Mesa 4x12 cabinets

- Hiwatt Custom Hiwatt 100

- Orange Rockerverb 100
- Bogner Uberschall

- Roland Jazz Chorus amp
- 4 Orange PPC 412 Cabs






Effects and More
- Digital Music Corp Ground Control board
- GCX Switchers
- Digitech Whammy pedal

- Electro-Harmonix Holy Grail Reverb pedal
- Dunlop Buddy Guy Wah
- Ernie Ball Volume pedal
- Boss TU-2 pedal
- Dunlop Uni-Vibe pedal (vintage but housed in new case)
- Voodoo Lab Pedal Power 2+ and Pedal Power AC units
- eBow

- Ibanez 1974 TS-808 Tube Screamer

- Digitech Hardwire CM-2 Tube Overdrive (as seen in 2009 and in a digitech promo photo)

- MXR Effects
- Furman Power Conditioner
- Line 6 DL4
- Foxrox Octron
- Delta Lab Stereo Chorus
- Boss DC-2 Dimension C
- Digitech Hardwire RV7

- 1978 (or '79) Ibanez TS9 Tube Screamer

- Samson UR-5D Wireless units
- Whirlwind Multi-Selector
- Digitech XHP Hyper Phase

- Boss CS-3 pedal
- Electro Harmonix Micro POG
- LEHLE Little Dual A/B Amp Switcher

- Palmer Chorus




Strings and Picks
- SIT Zach Meyers Signature set (11-50 gauge) guitar strings
- SIT Nickelwound guitar strings (Standard 11-52, 1/2 Step Down 12-54, Whole Step 13-58)
- In Tune .73mm picks