Les Claypool from Primus is arguably one of the better bass players on the scene. He has used a variety of gear - let's take a look and see what bass gear he has been seen using in the recording studio and live.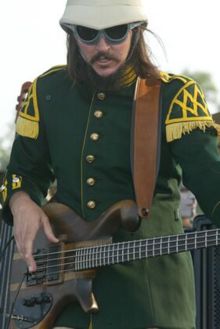 Click the gear images for more info and specs at Guitar Center and Amazon

Let's first look at some of the gear Les has used in the recording studio.
Animals Should Not Try To Act Like People:
Les used his fretless Carl Thompson "rainbox" 6-string bass on 4 of the 5 tracks on this album. He used a Carl Thompson 4-string bass (checkout Carl Thompson Bass page for pics and info on Les' Thompson basses) that has a Kahler whammy-bar for the track "Pilcher's Squad".
On 4 of the tracks he added delay using a Line 6 DL4 Delay Modeler:
Distortion was created using a Line 6 DM4 Distortion modeler:
Distortion was also created using vintage Electro_Harmonix and Korg pedals. All bass tracks were recorded direct to the console in his home studio.
The Les Claypool Frog Brigade Presents Purple Onion [Prawn Song] :
Les also used his Carl Thompson basses when recording 2002's The Les Claypool Frog Brigade Presents Purple Onion [Prawn Song]. On the title track he played his Carl Thompson 4 through different effects—like distortion from a Sans Amp Bass DI:

- envelope from a Korg Toneworks AX300B pedal
- Boomerang Phrase Sampler (for motorcycle sounds).

- fretless Thompson 4-string with flatwounds ("Barrington Hall")
- white late-'70s Rickenbacker ("David Makalaster". Alex Lifeson of Rush gave him the bass)
- old British solid-state DI unit.
- NS Design 5-string electric upright played with a bow and recorded direct with slapback delay ("David Makalaster II")
- fretted Thompson 4, recorded direct with some Korg Toneworks envelope ("Buzzards of Green Hill")
- short-scale electric upright ("Long in the Tooth". Bass was $200 at a pawn shop)
- 'Whamola,' (weird washtub bass-type instrument with a single D string on a stick, a pickup, a peg on the bottom like an upright bass, and a big handle that you pull to change pitch. Played with a drumstick)
Live
When he tours, Claypool has been seen using
- fretted and fretless Thompson 4's
- fretless Thompson 6
- NS Design electric upright 5
- Whamola,
- old aluminum-neck Kramer 8-string (uses live on "Cosmic Highway")
- Fender Jazz basses

- Korg Toneworks
- SansAmp Bass DI
- Boomerang sampler
- Ampeg rig—an SVT-3PRO head:

and two SVTPR-410H cabinets: