Brian Aubert is the lead vocalist and guitar player in the american indie rock band Silversun Pickups.

Let's take a look at some of the gear and equipment that has been seen ins Aubert's guitar rig.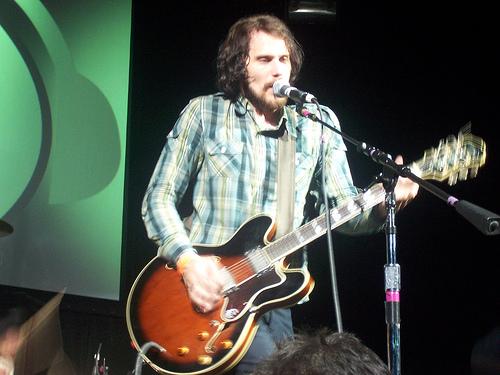 Click the gear images for more info and specs at Guitar Center and Amazon

Guitars
- Epiphone Sheraton

- Fender Jaguar (vintage sunburst)

- Gibson Hummingbird acoustic
- Epiphone Alleykat (seen in the Little Lover's So Polite video)
- guitar that appears to be a variant of Gibson Non Reverse Firebird, 2 pickup
Amps and Cabinets
- Fender Hot Rod Deville 410 amp

- variety of Marshall amps (JCM models)
- variety of Marshall straight front 4x12 cabs

- Fender twin (its in a couple pictures but not sure if its auberts)

- Hiwatt Head and cab seen onstage in 2009. Hiwatt Custom 100 head.

Effects
- Electro Harmonix Big Muff Pi
- Ibanez Turbo Screamer
- Boss TU-2 tuner
- Boss Loop Station RC-20XL
- Ernie Ball Volume Pedal
- Boss DD-3 delay (x2)
- Fulltone Fulldrive 2
- Line 6 DL-4 delay
- Radial Big Shot A/B/Y pedal

- Palmer DI box
- Eventide TimeFactor
- Devi Ever Truly Beautiful Disaster and Soda Meiser
- ProCo Rat 2 pedal
- Foxrox Octron pedal
- Guyatone MD-3 pedal

-  Alesis Midiverb II
Picks
- Dunlop Tortex picks (yellow)


Thanks to musicislife4567 for research.