Jon Herington is an American guitarist, singer-songwriter and record producer, most known for being a session musician. Currently, he is known for being Steely Dan's lead guitarist and also has done work with Boz Scaggs and many others.

Let's take a look at some of the gear and equipment that has been seen in Jon's guitar rig.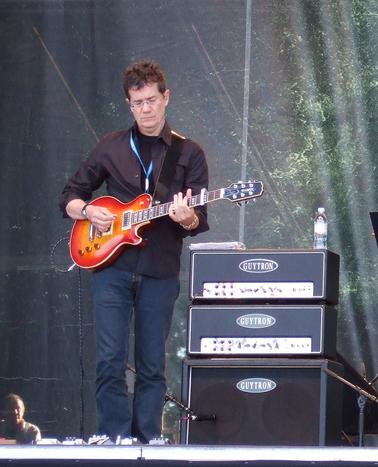 Click the gear images for more info and specs at Guitar Center and Amazon

Guitars
- Gibson CS-336
- Fender Telecaster

- Hamer Monaco Elite (Monaco Superpro pictured below)
- bent fret guitar ('Salvador' - Warmoth Les Paul-style body with three Lindy Fralin pickups)
- Hamer Korina Artist
- Hamer Special guitar (Seymour Duncan P-90 pickups)
- Gibson ES-335

- Hamer Newport



Amps
- Guytron GT100 and  GT100 F/V amplifiers
- Guytron GT212 cabinet




Effects and More
- Boss RV-3 pedal
- Boss tuner pedal
- Volume pedal
- Wah pedal
- Radial Engineering boost pedal
- Barber Electronics Tone Pump EQ
- Demeter tremolo pedal
- Delay pedals (x2)
- Digital Music Corporation Ground Control , GCX rack, and Ground Link
- MXR DynaComp
- MXR Phase 90
- Ibanez Modulation Delay pedal
- Hush noise reduction unit

- Korg Rack tuner
- Fulltone Fat Boost pedal






Strings
- Ernie Ball Rock 'N' Roll (pure nickel wrap), 10-46.