Brian Molko is a songwriter, lead vocalist and guitarist of the band Placebo. Molko has also performed on many collaborations.

Let's take a look at some of the gear and equipment that Moko has been seen using over his career in his guitar rig.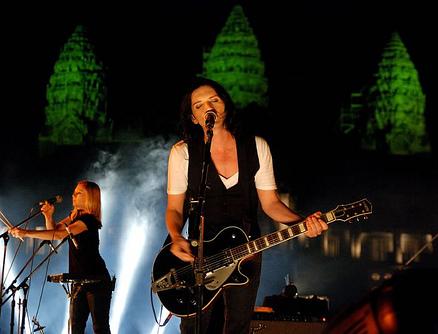 Click the gear images for more info and specs at Guitar Center and Amazon

Guitars
- Gretsch Duo Jets
- Gibson SG guitars (standards and reissues and SG-X)

- Fender Jaguar guitars (he has multiple jags, all named by him)

- Fender Jazzmaster

- Fender Thinline Telecaster

- Fender Bass VI
- Gibson Chet Atkins SST
- Steinberg headless guitar (hss configuration) for performing the cover of 'Wouldn't it be good'.
- faded white Fender cyclone (modified to include a humbucker-sized p90 pickup at the bridge)
- Fender Toronado
Amps and Cabinets
- Fender Twin Reverb

- Marshall 60th anniversary 6100LM + Cabinet Marshall 4*12
- Mesa Boogie Mark III
- Marshall JCM900 with 5881 power tubes




Effects
- Boss TU2 and  Tu-12 Tuner pedals
- Boss LS-2 Line Selector
- Boss DD-3 and DD-5 delay pedals
- Boss MT-2
- Boss BF-2
- Boss OS-2
- Boss PSM5
- Dunlop DC Brick
- Electro-Harmonix #1 Echo pedal

- Electro-Harmonix Hot Tubes
- Electro-Harmonix English Muff'n
- Electro Harmonix Sovtek Big Muff
- Electro Harmonix Micro Synthesizer
- MXR Distortion Plus +
- MXR Phase 90
- Radial pedal (appears to be Tonebone LoopBone)

- Rooger Mayer Voodoo 1
- MXR Blue Box Octave Fuzz