Jay Noel Yuenger also known as "J.", is a rock guitarist best known for his work with the Grammy nominated groove metal/alternative metal band White Zombie.

Let's take a look at some of the gear and equipment that has been seen in Jay's guitar rig.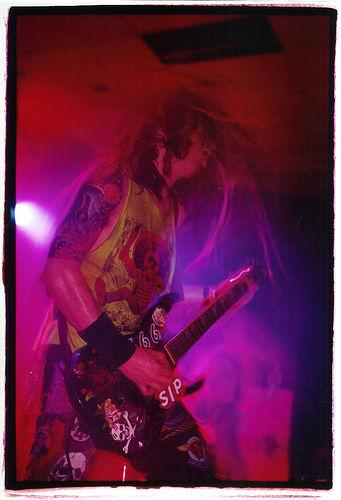 Click the gear images for more info and specs at Guitar Center and Amazon

Notes: Much of the equipment Jay used is no longer manufactured.
Guitars
- Robin - Machete Deluxe "Big Blue" in metallic blue
- Robin - Machete Deluxe Vintage Yellow
- Robin - Machete Deluxe Green Finish
- Robin - Machete Deluxe Pearl white
- Robin - Medley Standard
Checkout the Robin Machete guitars

- Ibanez ICJ100WZ Iceman
- Schecter Astro-Surf




Amps and Cabinets
- Randall Century 200 head
- Marshall valvestate 8100 amplifier head
- Mesa Boogie amp splitter
- Randall cabinets (the century 200 and valvestate heads go into the amp splitter and into the randall cabinets)




Effects
- Roland Double beat fuzz wah
- Pro Co RAT distortion pedal
- MXR distortion pedal (model?)
- Korg Toneworks G1
- Nady wireless system




Other stuff
- Rocktron and Korg Signal Process
- Dean Markley strings
- Dunlop Picks
- Fernandez sustainer




Thanks to the research conducted by musicislife4567.