Todd Rundgren is an American musician, singer-songwriter and record producer. Todd has been in many great bands over the years, including Woody's Truck Stop, Nazz, and Utopia.

Todd is a favorite at UberProAudio. You definitely should check him out if you haven't had the chance to hear him yet.

Let's take a look at the gear and equipment that Todd has been seen using in his 2009 guitar rig.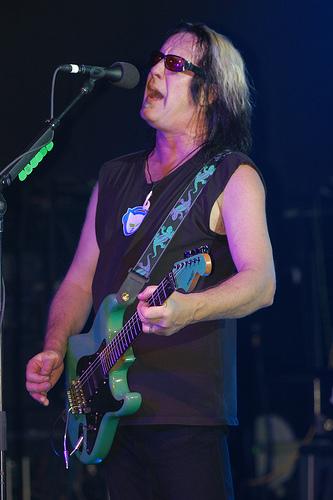 Click the gear images for more info and specs at Guitar Center and Amazon

Todd Rundgren's Guitars
- Fernandes P-Project Strat style w/ active electronics (aka "Foamy". foam green with black pickguard)
- Babicz Acoustic Guitar (as seen on Babicz website)
- Ibanez electric guitar
- Veleno Ankh guitar (he had two custom made Veleno guitars. They were super cool guitars. They were guitars that were made out of solid aluminum, which caused them to weigh a lot. Looked similar to Prince's cloud guitar, though these guitars came first. The guitars were destroyed in a warehouse fire.)
- Gibson SG "Fool" guitar
- Guild acoustic guitar (played on tour with Ringo)

- Fender Telecaster - vintage, butterscotch color, from the 60's (got at vintage guitar shop in San Francisco. Had some electronic work done to the insides of the guitar)

- Eastwood Backlund Model 100 electric guitars - check these cool futuristic guitar out
Todd Rundgren's Amps
- Line 6 Flextone III amplifier with a 2 x 12
- Line 6 AX212 guitar amp





Todd Rundgren's Strings, Picks, Effects and other Music Gear
- Line 6 POD HD Pro X Guitar Multi-Effects Processor

- Line 6 foot controller (4 button)
- Bose Cylindrical Radiators monitors

- Electro-Harmonix Electric Mistress Flanger / Filter Matrix (in the 70's)
- Eventide harmonizer (said he was using this guitar pedal in an interview from the 1970's)
- Dunlop Tortex .88mm green guitar picks
- D'Addario NYXL electric guitar strings, gauges .010–.046

Here's a fantastic interview that PG did with Todd Rundgren. Todd talks all things guitar gear - it's a must see if you are a Todd fan. He talks about his Foamy (foam green) electric guitar that was made by Fernandes.