Scottie Henry is a guitar player in the Christian mathcore band Norma Jean.

Let's look at some of the gear and equipment that has been seen in Scottie's Norma Jean guitar rig.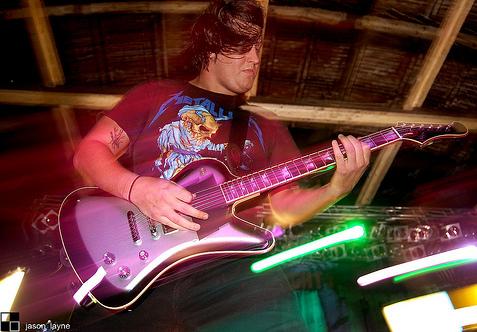 Click the gear images for more info and specs at Guitar Center and Amazon

Guitars
- First Act Silverburst Delgada guitar
- Fernandes guitars
- Gibson Les Paul Standard (blueburst)
- Gibson Les Paul custom (black)

- Telecaster (with 3 single coil pickups and tortoise pickguard - looks to be a Fender Deluxe Series Nashville Power Telecaster)





Amps and Cabinets
- Orange Thunderverb 200w Head




Also has used:
- Mesa Boogie Stiletto Trident and Triple rectifier heads







Effects and More
- Furman Power conditioner

- Dimarzio Cliplock black strap

- Boss Super Shifter pedal
 - Boss Phaser
- Boss NS-2
- Boss Tuner
Notes: Scottie has said in interviews he doesn't use many effects (just a few pedals). Though it looks like he uses multiple Boss Pedals in his live rig - it appears he has a long pedalboard in front of his amp
If anyone knows what pedals Scottie is using, leave a comment.Thanks to those who have already given eye witness accounts.