Sam Totman is one of the guitar players in the band Dragonforce. Let's take a look at some of the gear and equipment that Sam has been seen using in his Dragonforce gutiar rig over the years.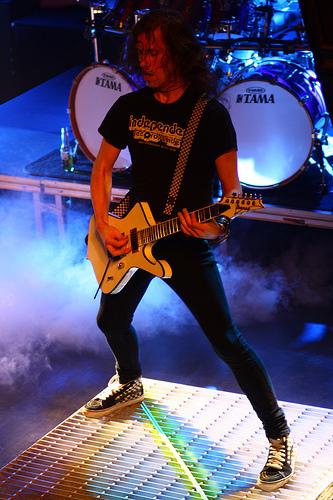 Click the gear images for more info and specs at Guitar Center and Amazon

Latest: Ibanez is now making an Ibanez STM2 Sam Totman Signature Electric Guitar

Original gear (Valley Of The Damned - Final Inhuman Rampage Tour)

On the earliest DragonForce recordings Sam used Kramer Vanguard FR440S guitar that was all stock with no modifications.
This Vanguard was used for the Shadow Warriors recordings too.

Soon after Valley Of The Damned Sam got a Jackson RR3 (stock) which was used as his main guitar and an Ibanez RG which belonged to Herman that he used.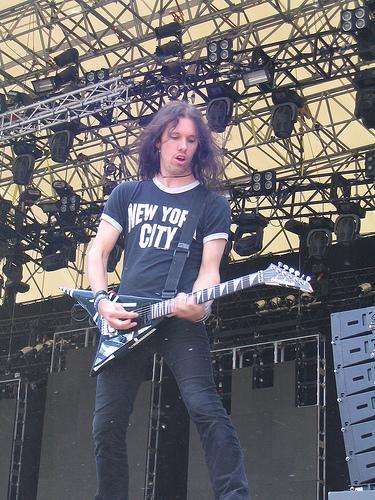 After that he had a signature VBT700 "V Blade" guitar from Ibanez made for him.
It's a neck-through string-through v shape with DiMarzio pickups. This guitar was soon discontinued by Ibanez and even Sam as it was a limited prototype guitar.
His custom guitar was used as second best to his then main guitar, the Ibanez IC400 Iceman.
Not long after he first had it he covered it with stickers such as Lego Men, "I Love Men", Michelin Tires and other random stuff. Sam also removed the AX1 neck pickup and wrote in white "SiC" where the pickup used to be. He also replaced the bridge AX2 pickup with a DiMarzio Evolution bridge pickup (which he had come to favour by that time).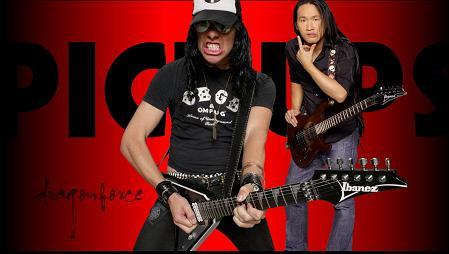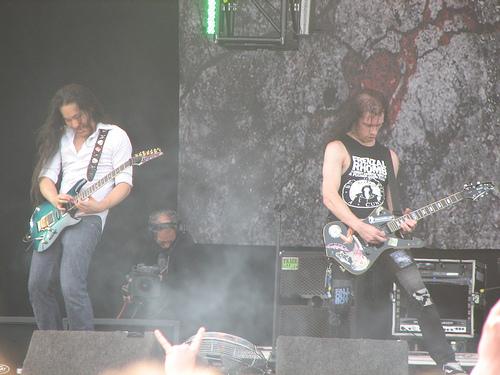 While his guitars changed a few times his amplification and effects stayed the same for a long time.
Sam used a Laney GH100L which is basically the same as the GH50L which was used by Paul Gilbert.
With his Laney amp he used Laney TT412S and Laney TT412A 4x12 speaker cabs.



To be able to jump around on stage like he did he used the pretty expensive Sennheiser Evolution G2 wireless system.


Sam didn't use wah, whammy, delay or any effects pedals.
He used a Rocktron Prophesy II pre-amp.





New Gear (Ultra Beatdown)

Sam now uses 3 guitars almost exclusively they are:
The Ibanez STM2



The Ibanez STM1 which is Sam's signature Iceman guitar released in 2008.

The Ibanez ICT700 Iceman, this used just as much as his signature guitar. He did use it with the DimArzio D Activator pickups that come stock. However upon changing the bridge to a DiMarzio Evolution pickup he now uses it slightly more than his signature guitar.





And finally, an STM1 prototype which is a black Iceman with trapezoid inlays and an Edge III bridge.
This is used very rarely.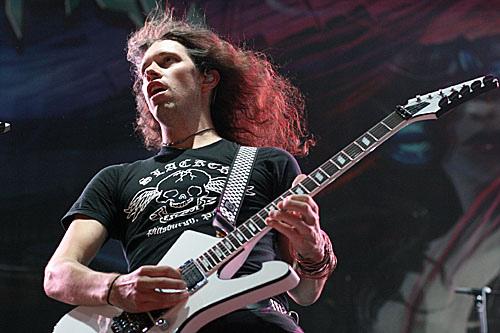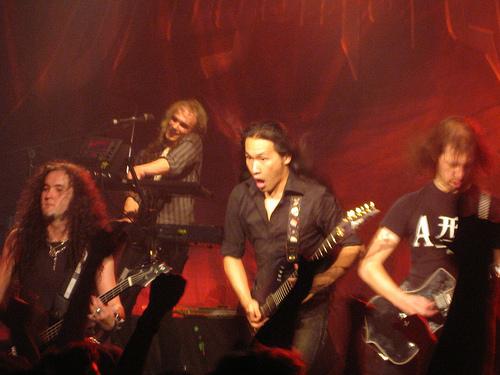 Note how it is black with trapezoid inlays (unlike the ICT700) and has an Edge III bridge and a non-reversed headstock (like the STM1).

Later on the bridge pickup is a half white-half black DiMarzio Evolution (like with his STM1)

These 3 guitars are used along with a Peavey XXX cab.

Due to a recent endorsement Sam has stopped using the Sennheiser Evolution G2 system and is now using the Samson Airline 77 wireless guitar system which features:
The CR77 receiver and AG1 Guitar Transmitter





Picks and strings
Both Sam Totman and Herman Li are endorsed by D'Addario Strings.
Sam uses D'Addario XL .10 - .46s

These are the strings that come stock with the Ibanez ICT700 and STM1

For picks Sam used Dunlop Small Stubby picks (the 2.0 mm ones).

When the Inhuman Rampage tour came around Sam used Dunlop 2.0 Tortex picks that were custom made to have the DragonForce logo on them.
During shows he would throw picks into the crowd. Some he signed and others were pre-print signatures.

However, somewhere between the Inhuma and Beatdown tours he used No Fear picks. (Yes, the clothing brand). He now uses Dunlop 2.0 Tortex again for the Ultra Beatdown tour.




Misc and trivia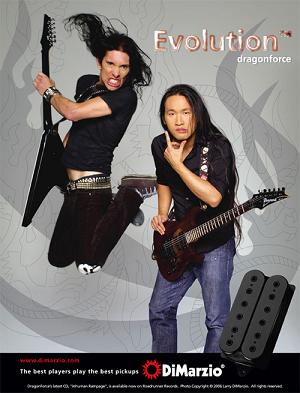 *For the hardcore fans*
When performing live and for the music videos Sam always wears his t-shirt that has the letter A followed by Japanese kanji. This t-shirt is made by the Japanese clothing brand Gokigen-Factory.
This clothes line is only marketed in Japan (he obviously obtained his Gokigen t-shirts while there on tour).

Caps.
Sam often wears a cap in interviews or casually.
The main cap he wears and the most noticeable is a black Trucker cap with a white front.
It has the MySpace.com logo and underneath reads "a place for friends"
These caps were a MySpace promo giveaway and a hard to find and when they do pop up they are expensive.



Researched and written by SonEsmonduu.


Additional Gear Notes:
- Digitech's website shows that Sam uses a Digitech GSP1101.