Steve Stevens is an American guitarist and songwriter. Steve is best known for playing for with Billy Idol and Vince Neil. Steve has also released solo albums (Atomic Playboys and Flamenco A Go-Go), collaborations (Bozzio Levin Stevens, a.k.a. Black Light Syndrome), and has been an in-demand session guitarist.

Let's look at some of the gear and equipment that has been seen in Stevens' guitar rig.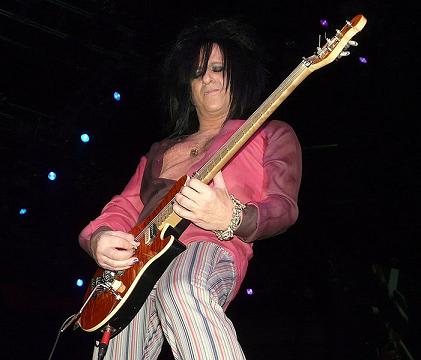 Click the gear images for more info and specs at Guitar Center and Amazon

Guitars
Steve has a huge amount of guitars!
- Music Man EVH and Axis guitars

- Jackson Soloist  and Soloist Glow guitars



- Charvel "1980's workhorse"
- Washburn Steven Stevens SS100 Frankenstein guitar
- John Suhr guitars
- B.C. Rich Clear guitar
- Gibson Les Paul (white)
- Godin LGCT
- Taylor Custom acoustic
- Gibson Les Paul (pink)
- Martin D28
- Collings acoustic guitar
- Godin Nylon guitars
- Fernandes Rubber Jig and Rubber Jig Chanel
- Pedro DeMiguel Nylon string
- Cordoba Nylon string
- Hamer Prototype (Pink)
- Gibson Les Paul Special (yellow)

- Ovation acoustic guitars
- Hamer Scalop S52
- Jerry Jones Sitar (blue)
- Ramirez 1973 string guitar
- Miguel Nylon String guitar
- Fernandes 7 string
- Fender Precision Bass (black)

- ESP strat (black)
- Gibson Les Paul (black)

- Danelectro
- Gibson Les Paul Voodoo
- Dean Cadillac
- PRS Singlecut
- PRS McCarty Raygun
- Knaggs Kenai SS Steve Stevens model
- Raw Vintage pickups
- Bare Knuckle "Rebel Yell" pickups
- Motor City pickups



Amps and Cabinets
- Matrix GT1000FX power amps (x2)
- Friedman Steve Stevens SS-100 amplifiers (BE-100 pic below)

- Blankenship Custom 45 100 watt
- H&H V800 power amp
- Splawn Amp
- Custom Audio OD-100 Amplifiers
- Marshall 4x12" Cabs

- Peavey 5150 II heads
- Marshall Plexi heads


- Bogner amps and Bogner 2x12" cabinet
- Celestion Gold series speakers

- Weber custom speakers
- Suhr Badger amp
- Scumback M75 speaker cabs
- Southbay Raygun 4x12 cabs with Vintage 30 speakers
Effects and More
- Fractal Audio Axe-Fx ULTRA
- Fulltone mini Deja Vibe
- MXR Phase 90 script pedal
- Axess Switcher
- Eventide H7600

- TC Electronic unit (used for echo)
- Line 6 Mod
- Line 6 Echo pro
- Moog Ring Modulator

- Moog MURF

- FoxRox PARADOX TZF Flanger
- Keeley Compressor
- EQ Pedal
- Fulltone Fat Boost

- RAT Deucetone pedal
- ISP Decimator ProRackG

- Digitech Whammy pedal

- Dunlop Slash wah

- Boss Volume pedal (Boss FV-500L)

- Ernie Ball Volume Pedal

- Boss DD-20 Giga Delay
- Fulltone Fulldrive 2
- Xotic pedals - BB Plus

- Roland GR-55

- EWS effects - Little Brute Drive and Bass Mid Control pedals
- Chandler Limited Little Devil Colored Boost & Germanium Drive pedals
- Fulltone Tube Tape Echo
- Paul Lenders Vibe Tool pedal
Strings and Picks

- Ernie Ball Cobalt strings - custom gauge 10, 13, 17, 28, 38, 50
- Clayton delrin 1mm guitar picks (or .80 according to Clayton site)