Nicko McBrain not only belongs to one of the coolest Heavy Metal bands of all time - he also has some cool drum gear and a neat "fact" that may shock some.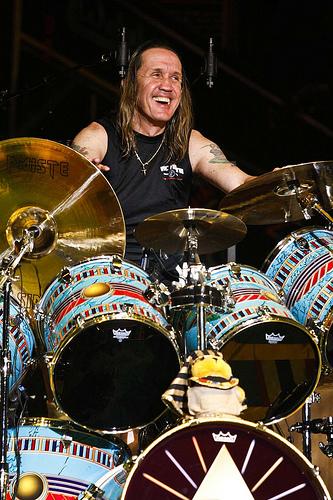 Click the gear images for more info and specs at Guitar Center and Amazon

Unlike most heavy metal drummers, Nicko doesn't use two bass drums or a double kick drum pedal, since he considers it to be "too complicated", and "un-drummerish". Instead, he's developed a very fast technique using just one bass drum. The only song Nicko has recorded using two bass drums was "Face in the Sand" from Dance of Death. He subsequently announced that it had been one of the hardest things he had ever had to play and that, for that reason, the number would not be included in the set list of the Dance of Death World Tour.
Let's check out what type of gear Nicko has used and is currently using.
Nicko USED to use this gear for his drums:
Sonor custom kit: 24" x 18" Bass drum with Ludwig Speed King
foot pedal, 18" x 19" floor tom, 6.5" x 14" Bell Bronze
custom snare, 6", 8", 12", 13", 14", 15" and 16" hanging
toms, 9-ply beechwood custom shelve
Paiste Signature series cymbals:
- Nicko McBrain Signature Bell Ride cymbal

 - 13" heavy bell
- 16", 17", 19" and 20" power crash cymbals
- 20" full crash
- 22" crash
- two 18" heavy china

- 22" power ride
- 1 pair 15" Sound Edge hi-hats

- Nicko McBrain Signature Series sticks by Vic Firth

Beyer Dynamic mics
Nicko's More recent Kit Set-up:
Premier Series drum in Custom finish:
06" x 06" Maple Classic Tom
08" x 08" Maple Classic Tom
10" x 10" Maple Classic Tom
12" x 12" Maple Classic Tom
13" x 13" Maple Classic Tom
14" x 14" Maple Classic Tom
15" x 15" Maple Classic Tom
16" x 16" Maple Classic Tom
18" x 16" Maple Classic Floor Tom
24" x 18" Gen-X Bass Drum
It apepars that Nicko has been using Paiste cymbals for a long time as his choice of cymbal.
We also found  a posting on a message board with a listing of Nicko's drumgear (not sure how accurate this is):
Nicko's Drums

A Real Dead One, Bruce's Leaving Concert, The Angel And The Gambler Video 93/98

Signia Maple (Black Finish)

6x8 8x8 10x10 12x12 13x13 14x14 15x15 16x16 18x16 & 24x18

14x5.5 Signia Snare Drum

Custom Built Rack System

Paiste 2002 Cymbals + Black Symphonic Gong


X FACTOUR 1995/96

Signia Maple (White Finish)

6x8 8x8 10x10 12x12 13x13 14x14 15x15 16x16 18x16 & 24x18

14x5.5 Signia Snare Drum

Custom Built Rack System

Paiste 2002 Cymbals


Virtual XI 1998

Signia Marquis (Flame Red Finish)

6x7 8x8 10x10 12x12 13x13 14x14 15x15 16x16 18x16 & 24x18

14x5.5 Signia Snare Drum

Custom Built Rack System

Paiste 2002 Cymbals + Red Symphonic Gong


Brave New World Tour 2000/01

Signia Marquis (Purple Sparkle)

6x7 8x8 10x10 12x12 13x13 14x14 15x15 16x16 18x16 & 24x18

14x5.5 Signia Snare Drum

Custom Built Rack System

Paiste Dimension Cymbals + Purple Symphonic Gong


Give Me Ead Till I'm Dead, Dance Of Death, Early Years 2003/05

Premier Premier Series (Custom Wrap By Hangman)

Toms Maple Unsupported Shells 6x7 8x8 10x10 12x12 13x13 14x14 15x15 16x16 18x16

Bass Drum Gen-X (Hybrid Birch&Maple) 24x18

14x5.5 Signia Snare Drum
14x5.5 Signia Marquis Snare Drum

Premier 6000 Hardware

DW 5000 Pedal & Hihat Stand

Paiste 2002 & Signature + Symphonic Gongs with Custom Painting