Nick Zinner is the guitarist for the New York rock band Yeah Yeah Yeahs. Nick has a good sized rig, known to use three amps live on stage to help fill out the sound.

Let's look at some of the gear and equipment that has been seen in Zinner's Yeah Yeah Yeahs guitar rig.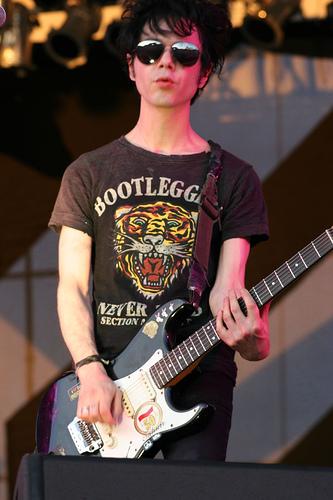 Click the gear images for more info and specs at Guitar Center and Amazon

Guitars
- Fender Stratocaster  (Japanese model, circa 1985)
- First Act custom Delia (Kent Armstrong p-900 single coil pickups and vintage humbucker)
- Dewey Decibel FlipOut guitar
- Washburn acoustic
- Fender Jaguar (used on It's Blitz! album for song "Soft Shock")






Amps
- Fender Hotrod Deville 212 combo amp
- Fender Twin Reverb reissue

- Vox AC30 amplifier
- Ampeg Portaflex bass amp (replaced the Mesa Boogie)
- Mesa Boogie Mark III combo amp
- Vox Pathfinder 15 amp (for drum machine)




Effects
- Boss DD-6 digital delay pedal (2)
- Line 6 DL4 Delay Modeler
- Line 6 MM4 (Modulation Modeler)

- ProCo Deucetone Rat

- Homebrew Power Screamer
- Boss RC-20 Loop Station
- Digitech Jamman pedals (3)

- Electro Harmonix POG
- Electro Harmonix HOG

- EHX 2880 Super Multi-Track Looper pedal
- DigiTech Hyper Phase

- Digitech Whammy

- Roland Space Echo RE-201
- Zoom RhythmTrak RT-123 drum machine
- Korg MicroKorg synth vocoder

- Boss DM-3 analog delay pedal
- ProCo Turbo Rat distortion pedal
- Honda sound works octave fuzz pedal
- Electro Harmonix Holiest Grail 
- Eventide Timefactor
- Eventide Modfactor

Thanks to musicislife4567 for help researching Nick's rig.