Robby Takac is one of the founding members of the Goo Goo Dolls, along with Johnny Rzeznik. He is the band's bassist and was formerly the front-man and lead singer in the Goo Goo Doll's earlier albums. Robby also is a producer and recording studio owner.

Let's look at some of the gear and equipment that has been seen in Robby's Goo Goo Dolls bass rig.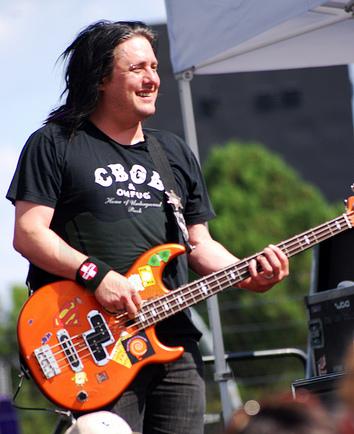 Click the gear images for more info and specs at Guitar Center and Amazon

Basses
- Yamaha BB414 (2024 pic below)
- Yamaha BB1000 models
- Hipshot installed on basses. Yamaha customizes the basses for him also.

- Fender P-Bass (1982 body with Bartolini pickups, Badass Bridge, D-Tuner, and metal nut)





Amps and Cabinets
- Ampeg SVT Classic head

- Ampeg 4x10 bass cabinets

- Divided by 13 amp



Effects and More
- Samson wireless unit
- Ampeg SVT Mic-preamp DI
- Tech 21 SansAmp bass RBI

- Xotic Effects BB Bass pedal





Strings and Picks
- GHS .115, .095, .070, and .050   and   .135, .115, .095, and .070  gauge bass strings

- Dunlop .88mm Tortex Triangle picks