Phil Collen is the lead guitarist for English rock band Def Leppard. Phil has also worked on other projects as a producer or musician, including his own band Man-Raze.

Let's look at some of the gear and equipment that has been seen in Phil Collen's guitar rig, with more focus on the more recent gear.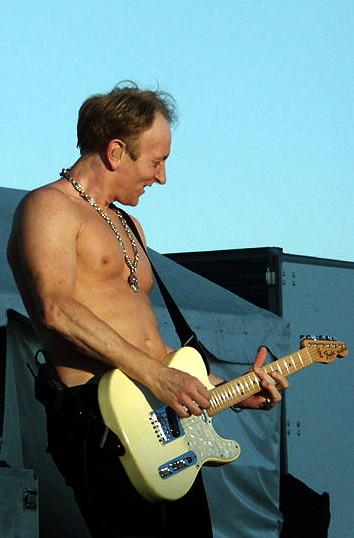 Click the gear images for more info and specs at Guitar Center and Amazon

Guitars
- Jackson Phil Collins Artist Signature Series PC-1 (based on the Dinky but with more exotic woods, etc.. His main one he calls "soul-ah". He has a variety)

- Fender Telecaster (blonde with pearloid pickguard and maple neck)

- Guild acoustic (looks like a D-55 perhaps)
- Jackson Kelly

- Ibanez Destroyer II
- Jackson PC Archtop
- Jackson Speedloader Custom
- Jackson Tele
- tons of other Jackson guitars- Charvel
- Fender Strats
- Gibson Les Pauls
- Acoustic that seems to have a Fender Strat neck on it
- uses titanium blocks on some of his guitars
Note: Phil really likes thicker guitar necks



Amps and Cabinets
- Palmer PDI-05 Speaker Simulator
- 1980's Randall RP2/200 power amps
- Marshall 4x12 100-watt cabs (x8)

- Line 6 Vetta 1
- Fender Cyber Twin
- EVH 5150III speaker cabinets (the white ones)




Effects and More
- Guitar Rig 4 software - Phil said in 2011 interview that all the latest Def Leppard stuff is this!!!
- Alesis MidiVerb II
- Samson UR5 wireless
- MXR M117R Flanger

- Marshall JMP-1 preamp (x2)
- TC Electronic D-Two Digital Delay

- TC Electronic 1210 Spatial Expander/Chorus
- Drawmer DS201 Dual Noise Gate

- In Ear Monitors
- Furman PL-Plus Power Conditoner

- Voodoo Lab GCX Rack Switcher
- Shure UR4D+ wireless



Strings and Picks
- D'Addario EXL145 and EXL 110 (switched to them around 2011)
- Phil also has said in an interview that he uses .13 - .56 gauge strings
- GHS Boomers strings (.012-.054 or .012-.052)
- Dunlop stainless-steel picks