Nick Valensi is the guitar player in the band The Strokes.

Let's look at some of the gear and equipment that has been seen in Nick's The Strokes guitar rig.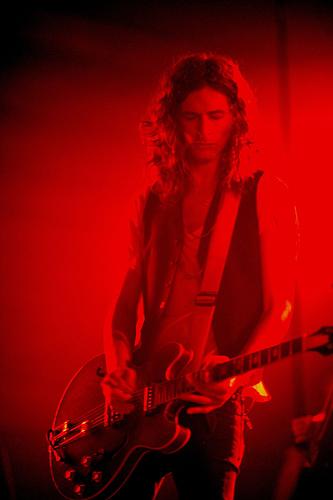 Click the gear images for more info and specs at Guitar Center and Amazon

Guitars
- Epiphone Nick Valensi Riviera P-94

- 1990s Epiphone Riviera guitars with Gibson P-94 pickups
- Epiphone Dot fitted with 2 P-94 pickups

- Epiphone Casino guitar

- Gibson Faded Special Double Cutaway with 2 P-90s
- Gibson Les Paul Custom (black)

- Fender Telecaster Custom Shop
- Duesenberg semi-hollow
- Gibson Les Paul Jr '54 reissue VOS (TV yellow.)

- Gibson Les Paul, Tobacco Burst. (looks like a Gibson Custom 1958 Les Paul Standard Plain Top)
Amps and Cabinets
- Fender Super-Sonic amplifiers

- Fender Hot Rod DeVille 2x12"
- Fender 4x12" extension cabinets

- Carr Slant 6V combo amplifier and Carr Rambler amp
- Vox AC4TV (used for some solos including "You're So Right")






Effects and More
- Visual Sound Jekyll & Hyde Ultimate Overdrive pedal (a big part of his sound)

- Demeter TRM-1 Tremulator
- Vox Cooltron Bulldog Distortion
- MXR M-133 Micro-Amp (2)
- Boss TU-2 Chromatic Tuner
- Durham Electronics Sex Drive guitar pedal (studio. he uses it like an overdrive)
- Death by Audio Micro Harmonic Transformer (studio)
- Maxon Analog delay (studio)
- Electro-Harmonix Memory Man (studio)

- Visual Sound Visual Volume pedal
- Visual Sound Double Trouble