Wes Borland is a musician, best known as the former guitarist in the band Limp Bizkit. He has been in many bands though, including The Damning Well, Goatslayer, Big Dumb Face, From First to Last (on bass), and more recently in Black Light Burns, in which he writes most of the music and sings, and additionally is also the touring guitarist for Marilyn Manson.

Let's take a look at the gear and equipment that Wes has been seen using in his guitar rig. We'll try to list not only new stuff, but past gear too.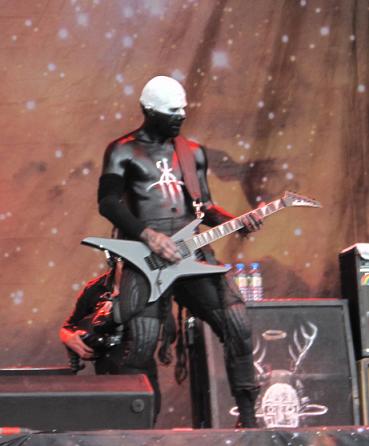 Click the gear images for more info and specs at Guitar Center and Amazon

Note: We are sure there are gaps (things to add/delete/modify) in Borland's gear list, so help fill in info if you know anything.

Guitars
- Yamaha CV820 WB 6 string - Wes Borland signature model guitar
- Jackson Warrior WR-1 guitars (gray one and white one. Also has a Japanese model)

- Jackson Rhoads V guitars
- Yamaha SA503 TVL
- Mayones Regius PRO 6 and baritone Regius 6 model guitars
- Fender Starcaster 1976
- Hagstrom III
- Fender Jazz Bass (black)



- Yamaha bass

Also has been seen using these guitars:
- Ibanez AX Custom 4-string baritone
- Ibanez AXR 7-string
- Ibanez AX-7221 7-string
- Ibanez AX-7521
- Ibanez R6-1
- Ibanez RG7621
- Ibanez Sabre 7-string
- PRS CE 24
- Cremona 4 string
- Cremona 6 string
- Jackson RX10D Rhoads
- Rickenbacker 360
- Ibanez RG7CST (as seen in a youtube demo video of Wes)
- Seymour Duncan Invaders



Fact: When Borland played 7-string in Limp Bizkit, he had two high E strings instead of a B.


Amps and Cabinets
- EVH 5150 III amplifier heads
- Orange Amplifiers - for live shows (Thunderverbs)

- Orange 2x12 and 4x12 cabinets (black)
- Diezel VH4 Heads - Used for recordings

- 60's Sears Silvertone
- Selmer Zodiac Twin 50
- Marshall cabs

- Marshall head (seen at 2007 Malaysia show)
- Mesa Boogie Dual or Triple Rectifiers
- Mesa Boogie 4x12 Cabinets
- Roland JC-120 Jazz Chorus Guitar Amplifier




Effects and More
- BOSS RV-3 Delay and Reverb
- BOSS EQ pedal
- BOSS Noise Gate
- BOSS Super Phaser
- Boss Digital Delay
- Digitech XP300 Space Station
- DOD Electronics Buzz Box
- DOD Electronics FX-25B Envelope Filter
- Electro Harmonix Q-Tron
- Fulltone Deja-Vibe pedal
- iZotope Trash
- Korg DTR-1 Tuner
- MXR Phase 90
- Rocktron Hush Unit

- Echoplex
- Moogerfooger (Moog Delay, etc)

- Whirlwind A/B Selector

- Ibanez TS9

- Taurus Silverline stompboxes



Strings and Picks
- Dean Markley 11-52 gauge guitar strings
- Ernie Ball electric guitar strings
- variety of Dunlop Picks, including Tortex, triangles, etc...