Jeremy DePoyster is a guitar player in the american metalcore band The Devil Wears Prada, from Dayton Ohio.

Let's take a look at some of the gear and equipment that Jeremy has been seen using in his The Devil Wears Prada guitar rig.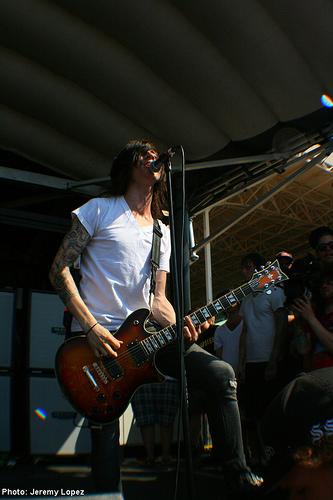 Click the gear images for more info and specs at Guitar Center and Amazon

Note: Checkout our 2011 interview with Jeremy where he tells which gear was in his live rig for summer 2011.

Guitars
2011 tour guitars:
- Gibson Les Paul Custom

- Fender Jazzmasters (x2)

ALL with Seymour Duncan JB pickups in bridge.
Jeremy has also used:
- Schecter Tempest Custom guitars (one white, one black, both with Seymour Duncan Active pickups)

- Schecter Vintage White Tempest Classic (Custom-designed with Seymour Duncan 59 (neck) and JB (bridge), with single-coil tap on both pickups)
- Schecter Hellraiser Solo-6, white (used on Danger Wildman video)

- EMG pickups - In 2010 Jeremy answered a question on formspring.me, stating he uses EMG 81/85 in all his guitars now. Also listed on EMG site.
Amps and Cabinets
- Orange Rockerverb 100 Head
- Orange PPC 412 Cabinet
- Peavey 6505+ amps (as reported on Peavey site and also eyewitness reports of 2009 tour)
 - Marshall JCM800 amplifier
- Mesa Boogie Triple Rectifier



- Mesa Boogie 4x12 Stereo Cabinets



- Rocktron Velocity 100 Power Amp






Effects and more
- Pod x3 live (eyewitness report at swedish gig and as stated by Jeremy in an interview)
- Boss Tuner pedal
- Ibanez TS9 Tube Screamer

- Boss SD-1 Overdrive

- Boss NS-2 Noise Suppressor
- Morley ABY Selector

- Behringer Rack Tuner

- Furman Power Conditioner

- Rocktron Xpression (For delays, chorus, reverbs on cleans)

- Rocktron MIDI Mate (to control the Xpression)

- Rocktron HUSH

- Rocktron Cyborg Digital Delay

- Sennheiser ew172G2 Wireless System
- Boss delay pedal
 - Fulltone OCD pedal
- Electro-Harmonix Small Stone nano pedal
- T-Rex Fuel Tank

- Electro Harmonix Holy Grail nano pedal
- Boss FS-5U

- Boss DD-20 Gigadelay
- Boss GE-7 EQ pedal
- SKB Pedal Board

- Carl Martin Octaswitch
- MXR Carbon Copy

- EHX Micro POG
- EHX Small Clone

Strings and More
- Dimarzio ClipLock straps (black)

- GHS Boomers guitar strings (not sure gauge)