Tom DeLonge has been the guitarist and singer in many popular bands, most famous being Blink 182. Tom also did a side project with Travis Barker called Box Car Racer. In 2005 Tom started the band Angels and Airwaves (aka AVA). Tom has used a variety of guitar gear over the years. In this article, we show you video interviews with Tom DeLonge, pictures Tom has shared, along with our insights into the actual guitars, amps, cabs, effects, strings, and other guitar gear that has been seen in Tom's guitar rig. There's also dozens of insightful comments that our readers have posted providing additional insight into the guitar gear that's been used by Tom DeLonge to get his guitar tone.

Now, let's look at some of the gear and equipment that has been seen in Tom's guitar rig!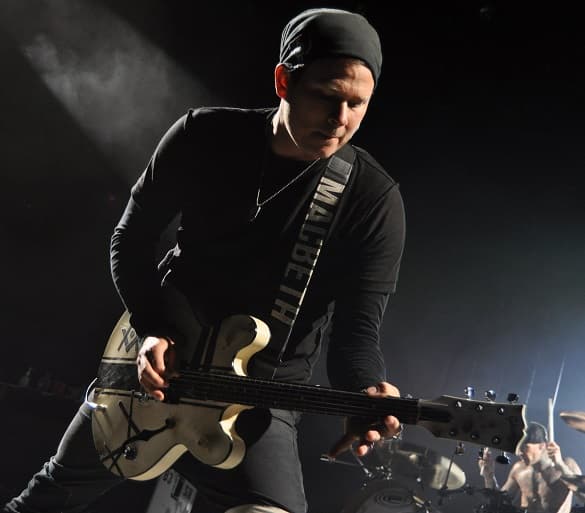 Click the gear images for more info and specs at Guitar Center and Amazon

Tom DeLonge's Guitars
- Gibson Tom DeLonge signature ES-333 guitars (has a Dirty Fingers pickup in bridge and no neck pickup) There is also an epiphone model, pictured below
- Fender Custom Shop strats (including Tom DeLonge signature model)
- Gibson Les Paul Standard (Black)
- Fender Fat Stratocaster (Seymour Duncan Invader Pickup)

- Taylor acoustic guitars (614ce, etc...)

- Guild D-55 acoustic guitar

- Fender Tornado's
- Fender Jagmaster
Here's a nice picture that Tom shared that shows a rack filled with his signature Gibson Tom DeLonge guitars:
https://www.instagram.com/p/BjlqwfCg8vK/
Tom DeLonge's Amps and Cabinets
- Vox AC30 (x2 for dirty)
- Fender Twin Reverb amps (x2 for clean)

- 1x12 Orange combo amp
- Mesa/Boogie Triple Rectifier
- Marshall JCM900
- Mesa 2x12 and 4x12 cabinets
Here's a studio picture that Tom shared. It looks like there's an Orange CS50 Custom Shop 50-watt Tube Head along with an Orange guitar combo amp, Hiwatt head, and a lot of other gear.
https://www.instagram.com/p/BoHslqVgiFX/
Ernie Ball did an awesome documentary with Tom DeLonge called The Pursuit of Tone with Tom DeLonge. In the "Sonic Evolution" video you can see a ton of Tom's gear in the studio. In this brief clip Tom discusses his sonic evolution from the start of the Blink 182 band where he used his Fender Stratocaster and Mesa Boogie amp combination on the "Dude Ranch" record, to his custom Gibson ES-335 guitar and his love of pedals and synths along with how he custom painted his guitars himself. Tons of pedals, amps, and cabs in this video!
There are also some awesome pictures on Tom's Pursuit of Tone page. There's some nice closeup shots of a rack filled with Marshall EL34 100/100 power amps next to a rack of his Fender and Gibson guitars. There's another awesome close up shot of some of his guitar effects pedals – including Tom's MXR Phase 100 guitar pedal, Vox Joe Satriani Time Machine pedal, MXR M-181 Bass Blow Torch pedal, Electro Harmonix Small Stone Phase Shifter pedal, MXR Flanger pedal, Boss BF-2 Flanger effect, Vox Satchurator distortion pedal, Fulltone OCD guitar effects pedal, Ernie Ball Volume pedal, and more!!!
Tom posted a picture of a Fractal FC-12 Foot Controller on his Instagram. Story has it, that Tom was using a Fractal Audio Axe-Fx III on tour in 2019, and his picture of the Fractal controller is good confirmation.
https://www.instagram.com/p/B0hAngBpXU5/
Tom DeLonge's Effects and More
- Shure UHF wireless systems
- Furman Power Conditioner
- Palmer PGA4 Speaker Simulators
- T.C Electronics G-Force Multi Fx Unit
- Digital Music Corp GCX Switcher/Router
- Marshall JMP1 Midi Pre-Amp
- Mesa Boogie Tri-Axis Midi Preamp
- Mesa Boogie Simulclass 2:90 Preamp
- Marshall EL34 100/100 Power Amp
- Custom Audio Electronics footswitch, Bob Bradshaw
- Korg Rack Tuner
- Moog Voyager RME
- Korg Kaoss Pad
- Dunlop DC Brick
- Alesis Micron Synth
- Whirlwind A/B box

- Fulltone Fulldrive (x2)
- MXR EVH flanger
- MXR phaser
- Boss DD-6 Digital Delay
- Electro-Harmonix Micro Synth guitar pedal
- Line 6 Constrictor
- Fulltone OCD
In 2019, Ernie Ball did a String Theory video with Tom DeLonge. In the opening scene, we see Tom playing one of his Gibson guitars, along with multiple amps and recording gear in the background. A Hiwatt amplifier head, a Vox combo amp, Mesa Boogie 2x12 cab, Guild acoustic guitar, and an Orange guitar amp head, are all visible behind Tom.
Between clips of Tom rocking out on the guitar, there are cuts of Tom being interviewed. DeLonge discusses the guitar learning process, the emotions he hopes his music evokes, and his relationship with Ernie Ball. To mentions he was self-taught, which gives some hope to the rest of us :)
Tom has a Boss Delay Pedal sitting on top of the amp he is playing. Tom discusses the guitar effects around minute 3:00 in the video. We can see the settings he has on the pedal when they do a close up shot of the Boss pedal. Tom's delay pedal appears to be the Boss DD-6 Digital Delay which is the first BOSS delay pedal to offer true stereo delay and panning effects.


Tom talks about how much he likes space, and talked about how he actually created his own aerospace company. He had a hard time deciding if he'd play live guitar or spend more time working on the aerospace company, but he said he felt really good playing the guitar loud again, and said that he thinks he'll be able to spend some more time focusing on music and playing guitar again.

On the Ernie Ball website, it says that Tom DeLonge uses Custom Gauge Nickel Wound 52's and Ernie Ball Paradigm Skinny Top Heavy Bottom electric guitar strings.
On acoustic guitar, Tom uses the Ernie Ball Earthwood Phosphor Bronze Medium Light acoustic guitar strings. Towards the end of the String Theory video we see Tom playing his Guild D-55 acoustic guitar. The Guild is white with a colorful running paint look.


In the following video, Tom DeLonge is playing on the Ernie Ball Paradigm electric guitar strings. We see that the Paradigm guitar strings are stronger than Tom DeLonge, which is impressive since he's playing the guitar quite aggressively in the video. Tom's playing one of his signature guitars and is using the basic black colored Ernie Ball guitar strap. We see multiple Mesa 2x12" cabinets in different tolex colors along with a Mesa Rectifier guitar amp head and a Marshall JCM2000 amplifier head.

Before using the Paradigm guitar strings, Tom was using the Ernie Ball 2215 Skinny Top Heavy Bottom electric guitar strings
https://www.instagram.com/p/BiNDaRQAPuy/
Tom DeLonge's Strings, Picks and other Guitar Gear
- Ernie Ball Paradigm Skinny Top Heavy Bottom electric guitar strings, gauges 10 to 52
- Ernie Ball "Skinny Top, Heavy Bottom" .010 - .052 gauged strings
- Dunlop .60mm Tortex Standard picks
- Jim Dunlop Curved Capo C-4 - used on his hollowbody. (Thanks to Ian for the research on this)
Here's a really fantastic video that is a guitar gear rig walkthrough of Tom's gear. Tom's guitar tech shows all the little juicy details about Tom's gear and how he got his live tone. The video was dated in 2014 and is from a Czechia music company.
In 2009, Guitar Center did an interview with Tom DeLonge where he talks a lot about music gear and recording. Tom first talks about how he's built up gear and his own studio that was used to help save money versus paying for expensive studio time, especially for when the Angels and Airwaves band started recording. He said by building a studio and putting the gear in it, as an example a record that would have cost $1 million at the time might be done by him for $300k instead. Each record, he'd add a bit more gear.
Tom said that he's found his signature Gibson guitar is one of the most versatile and best sounding guitars that he's used, and he's used this guitar on nearly everything he had done. He also used Roland Fantom G-6 and Yamaha Motif synthesizers, along with a variety of Sound Toys audio plugins.