Chris Henderson is the guitarist from the alternative rock band 3 Doors Down. Chris has a relatively simple but great sounding rig. The main pieces of his guitar setup are his amps and super nice guitars - he doesn't really use effects or pedals. Also of interest, Chris has his own recording studio with tons of gear in it. We wont even get into all of that good stuff here!

Let's look at some of the gear and equipment that has been seen in Chris Henderson's 3 Doors Down guitar rig.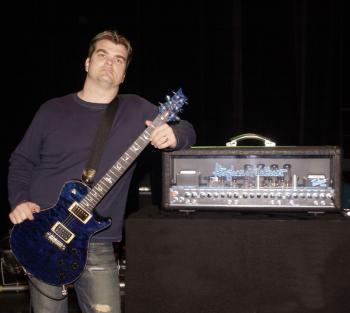 Click the gear images for more info and specs at Guitar Center and Amazon

Guitars
- PRS Single Cut signature Chris Henderson guitar (pickups: 7bass, 7treble, tremonti)
- PRS Hollowbody II

- PRS Hollowbody Singlecut
- PRS Signature Saints Goldtop
- PRS with top secret camo finish (had to get government approval just to make it)
- Yamaha LL36
- Gibson '57 Les Paul Jr

- '57 Fender Jazzmaster

- '58 reissue Les Paul Gary Rossington Signature model
- Taylor Acoustic Guitars (810CE)
- Hughes Kettner Triamp MK II heads (x2)
- Vox AC50CPH Classic Plus Amp Heads (cleans) (x2)
- Vox AC30CCH head (combo pic below)
- Isolation cabinet 1x12"
- Mills Afterburner 412B cabinet (studio)
- EVH head (studio for solos)



Note: Chris says that he doesn't use any effects live or in the studio


Rack Gear
- Monster Cable PRO 3500 Rack PowerCenter

- "Head Chasers" racked at Savage (radial headbone vt guts) - lets you go to backup amp head with press of a button


Picks
- Green Dunlop Tortex guitar picks



Mics
In the studio Chris mikes his amps with:
- Sennheiser md421
- Shure sm57