Matthew Followill is the lead guitar player in the band Kings Of Leon. The band is comprised of 3 brothers and one cousin (all named Followill of course).

Let's look at some of the gear and equipment that has been seen in Matthew's Kings Of Leon guitar rig. Please post a comment if you have any guitar, amp, or effect additions to make to the article.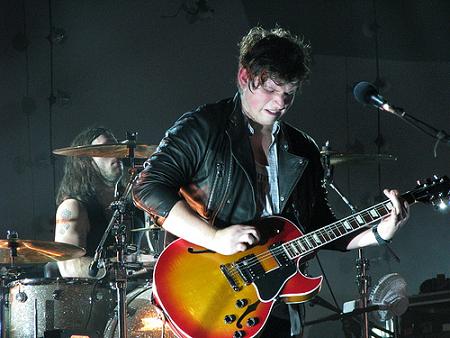 Click the gear images for more info and specs at Guitar Center and Amazon

Guitars
- Gibson Heritage Cherry ES-137

- Epiphone Sheraton II

- Gibson Les Paul Custom




Amps and Cabinets
- Ampeg Reverberocket R-212R




Effects
Matthew has some pedals on the ground in front of him and many pedals in a rack that is controlled by a Ground Control.
- Voodoo Lab GCX Switcher and Ground Control (GCX is in the rack)
- Line 6 Verbzilla (in the rack drawers)

- Dunlop Crybaby wah pedal (on the floor)
- BOSS ME-50 (in the rack drawers)
- Line 6 DL4 (in the rack drawers)
- Electro Harmonix POG (in the rack drawers)
- Digitech Whammy (in the rack drawers AND on the floor)

- Ernie Ball Volume Pedal (on the floor)

- MXR M-133 Micro Amp  (in the rack drawers)
- Visual Sound Route 66 Overdrive Guitar Pedal (on the floor AND in the rack)
- Boss Super Shifter (in the rack drawers)
- Boss TU-2 (on the floor)
- DigiTech DigiVerb

- Eventide Harmonizer pedal (used on Come Around Sundown album)
Strings and Picks
- D'Addario guitar strings 11's
- Dunlop Tortex .60mm guitar picks